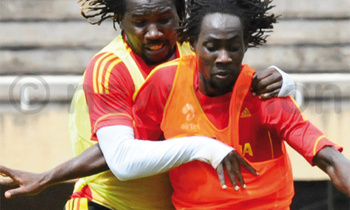 By Fred Kaweesi
IS Hassan Wasswa fit enough to guarantee a place in the Cranes team?
Why would the team's head coach Micho Sredojevic consider a player who has been inactive at club level for large spells of the football season?
These are among the questions that have been raised since the midfielder's substandard performance during the 2-1 defeat in the first leg of Cranes 2015 Nations Cup qualifier against Madagascar.
Wasswa's fitness has been a serious concern. That he had to be replaced after 46 minutes in Madagascar was probably proof that the 27 year-old wasn't fit and shouldn't have started the game in the first place.
But does the midfielder think that way? Not really.
"You cannot play when you are not fit. Everyone has a right to his observation. I know what I can do and will not be distracted," Wasswa told New Vision Sport.
Micho has spent the last couple of days working on Wasswa and other players' fitness levels under a rigorous training regime that should put all into shape.
"I am in good shape and looking forward to the game," he added. With Tony Mawejje back into the picture after missing the first leg due to club commitments, Micho will review the four-man midfield that started against the Island Ocean outfit and decide who must give way for Mawejje.
If Micho chooses to start with the midfield template of Wasswa, Mawejje and Geoffrey Kizito that started most of the 2014 World Cup qualifiers, then Kenya-based midfielder Khalid Aucho will have to give way.
Wasswa would then offer defensive cover with restricted responsibility of venturing forward, as Kizito an Mawejje patrol the central areas and join the attack in support of strikers Geoffrey Massa, Emmanuel Okwi.
Mawejje, who has seen the trio's midfield pattern blossom in previous fixtures, sounded optimistic of a decent run despite his own concerns over a lack of enough game time at his Norwegian club Haugesund.
"I have not been able to start regularly for my club but that will certainly not affect my performance on Saturday," Mawejje told New Vision Sport.
"I will give 100%. I should have no problems performing to my best standards," he added.
On Tuesday, the team's morale was boosted after minister of state for sports Charles Bakkabulindi paid them an official visit and presented sh10m to be shared among themselves ahead of the weekend fixture.
Related stories

Uganda Cranes stumble in Madagascar

Cranes will cruise all the way, says Sserunkuma