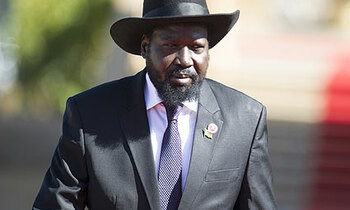 By Raymond Baguma

Regional heads of state under the regional bloc of Inter-Governmental Authority on Development (IGAD) are meeting in South Africa for a consultative meeting on terrorism in the region.

The meeting is taking place following the inauguration ceremony of the South African President Jacob Zuma.

According to the presidential assistant for communication Sarah Kagingo, the meeting is at the Bryntirion Estate in South Africa.
President Museveni joined other regional leaders to attend Zuma's inauguration ceremony which took place at the Union Buildings.

Other presidents present included Salva Kiir (South Sudan), Omar Bashir (Sudan), Ethiopian Prime Minister Hailemariam Desalegn, Uhuru Kenyatta (Kenya) as well as Nigerian President Goodluck Jonathan.

The IGAD region is presently involved in stabilization efforts in Somalia under AMISOM, with the involvement of troops from Uganda, Ethiopia, Burundi, Kenya and Djibouti.

There are also police units from Sierra Leone and Nigeria.

The Al-shabaab militants have this week threatened to take war to countries that maintain troops in Somalia. The al-Qaeda linked group is responsible for carrying out a series of attacks in Kenya.
true
Policemen inspect the scene of an explosion in Gikomba on the outskirts of Nairobi's business district where twin blasts claimed at least ten lives on Friday. PHOTO/AFP


true
The conflict in South Sudan has dragged on for months now. PHOTO/AFP
The region is also faced with the challenge of the ongoing civil war in South Sudan.

IGAD is yet to deploy a protection force to oversee implementation of the ceasefire signed recently between the warring sides of President Salva Kiir and his former vice president Dr. Riek Machar.

Uganda which maintains troops in South Sudan insists that UPDF will remain there until such a time when the South Sudan Government will say that we can leave.

Kagingo said that the IGAD meeting will also be attended by Nigeria which is however not a member of IGAD.

Presently, the West African nation is faced with the challenge of the Boko Haram Islamic militants who have carried out a spate of killings as well as kidnaping of over 200 school girls recently.

Also related to this story
US to cut Nairobi embassy staff over terror threats

Warring South Sudan rivals sign peace deal

Khartoum welcomes South Sudan peace deal