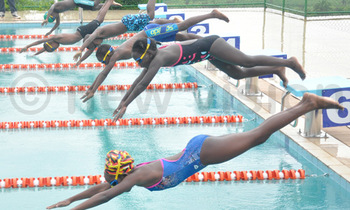 By Michael Nsubuga
Top Dolphins swimmers
Selina Katumba 5 gold
Tendo Mukalazi 3 gold+2 silver
Kizito Laylaa 4 gold
Kirabo Namutebi 2 gold+2 silver+1 bronze
Michelle Sine 1 silver+4 bronze
Nanette Nsereko 1 gold 
SELINA Katumba bagged 5 gold, Kizito Laylaa 4, Tendo Mukalazi 3 gold and two silver as the Dolphins Swimming Club excelled at the Kenya National Age Swimming Championships at the Aga Khan High School pool in Nairobi.
Katumba, 10, won her races in the 50m breaststroke, butterfly, backstroke, freestyle and the 100m individual medley races to set the pace for the Ugandan youngsters who collected 47 medals.
Kizito Laylaa also excelled in the 8 year old category winning gold in the 25m and 50m breast, back, freestyle and butterfly races.
USPA swimmers of the year 2012-2013 Tendo Mukalazi and his sister Kirabo Namutebi were the Dolphins' other stars winning a combined ten medals from the 11 years and 9 years categories respectively.
Mukalazi was also on the 200m freestyle relay team that also won gold. It comprised of Adnan Kabuye, Lalani Moustapha and Darren Samura.
true
Selina Katumba bagged five gold medals in Nairobi. Photo by Michael Nsubuga
Competing in the7 years and under the combination of Michelle Sine, Gabriella Sine, Nanette Nsereko and Kimberly Kabiri won gold too from the 100m medley and 100m free style races.
The 7 and under boys; Carlton Kaumi, John Gasasira, Kevin Rugaaju and Arthur Tayebwa picked silver over the same distance.
The 9 year olds; Raphael Sine, Joshua Lumonya, Lionel Rezida and Joshua Sendagire were also gold winners over the same distance in the relay race.
Sanyu Kagugube Nambeguya, Swagiah Mubiru, Siegfred Katumwa, Hannah Kyanda and Samora Lumonya also picked silver medals from different races.