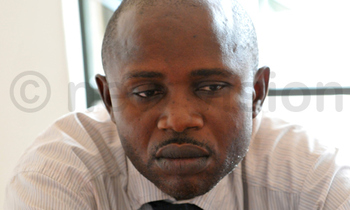 By Swalley Kenyi
Africa Nations Cup qualifier (May 31)
Uganda v Madagascar (Agg. 1-2) 
Ticket charges
Gold: Sh 120,000
VIP: Sh 50000
Open Stands: Sh 20000
FUFA Finance Director Decolas Kizza has insisted that charges for Uganda Cranes' match against Madagascar at Namboole are fair contrary to public opinion that the charges are exorbitant.
FUFA on Wednesday announced sh120,000, sh50,000 and sh20,000 as charges for the gold tickets, VIP and open stand respectively sparking off debate among fans on many radio stations around Kampala.
Responding to resistance from the public Kizza explained on Wednesday that the charges are meant to meet FUFA expenditures, URA tax, stadium charges and forthcoming programmes.
The forthcoming programmes include the next stage of the AFCON qualifiers in case the Uganda Cranes beat Madagascar and advance to the next round and qualifiers for 2015 Africa U17 Championship starting in June.
"The charges are fair. We were considerate while reaching them. It is meant to allow the federation meet expenditures for the on-going campaign and tax and meet charges at Namboole," Kizza explained.  
FUFA is expected to pay sh3600 VAT and sh1700 per ticket to Namboole. 
He said that fans who buy tickets of sh120,000 will have preferential treatment. 
The tickets go on sale at various Total, Shell, City Oil, Kobil and Gapco petrol stations around Kampala. Hardware World in Ntinda and City Shoppers in Mukono are the other outlets that will sell the tickets.   
Related stories
Uganda Cranes stumble in Madagascar
Away goal crucial for return leg - Micho
Micho optimistic about Cranes' AFCON chances