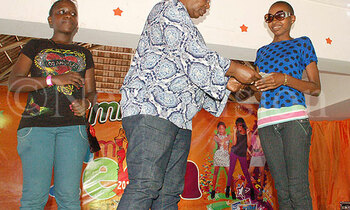 By Steven Odeke
This season's Mirinda Miss Teens will be quite different from the past editions that primarily focused on the girls' fun side like talents, confidence and beauty. 
This season, excellence in academics will be one of the major attributes sought after by the scouts when they start the countrywide search. How they will gauge girls in academics will be known during the pageant that is to run until second term holidays in August.
true
Left- right- Amahoro Abigail miss teen 2013, Catherine Guhirwa Linda 2nd runner up 2013 and Monica Namulindwa Sylvia 1st runner up 2013 during the 2014 Mirinda Miss Teen launch at Garden CityPhoto by Tony Rujuta.
At the launch of the pageant, last Saturday at Garden City rooftop, holidaying teens streamed in big numbers at the function dressed up in all outfits, knee-length and asymmetrical trendy designs to absorb the functions. 
Some partook in the Kampala auditions before the day's judges Judith Heard, Radio presenter Flavia Tumusiime, journalist Angella Nampewo and last year's Miss Teens runners up. 
They were tasked to answer some current affairs questions and other activities like modeling. 
true
The Ushers during the 2014 Mirinda Miss Teen launch at Garden City on May 17, 2014. Photo by Tony Rujuta.
One girl sent everyone into ruptures when she answered to one question that the vice president of Uganda was Bidandi Ssali. 
That would be reason enough for the scouts this year to get girls excellent with books as well, maybe that will prompt them to read current affairs. 
Matembe urged all girls to avoid peer influence and sexual relationships with boys while still at school. 
Performances ensued from artistes Rema and Mun G before the event ended at 6:00pm.
RELATED STORIES