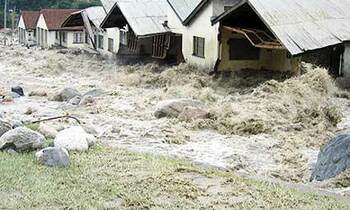 By John Thawite

KASESE - A seven-month-pregnant woman died Friday at St Paul's Health Centre IV in Kasese Municipality a day after she was evacuated from Kilembe Mines Hospital after River Nyamwamba burst its banks.
This brings to four the number of patients who have died in the process of being evacuated from the hospital to save them from floods.
On May 8, River Nyamwamba, which is next to the Kilembe hospital, burst its banks again, following a heavy downpour in the Rwenzori Mountains.
Two newborn babies and a 77-year-old woman died in the stampede as patients and their caretakers fled the hospital to escape the raging floods.
(PHOTOGRAPHY by Ali Wasswa)
true
Gushing floods have destroyed everything in its way
The St Paul Health centre IV in-charge, Dr. Ibrahim Kakule Masinda, named the deceased as Sharon Tusingwire, 30, wife to Sharif Nyaruhima of Mowlem village in from Hima Town Council.
Kakule said she was one of the 58 patents evacuated from Kilembe and relocated to the health facility.
'By the time she reached here she was in a coma and her foetus was already dead, leading to internal foetal death," he said on Friday.
"When we received her she was critically ill and in a coma. She did not come out of this coma. When we scanned her to ascertain the status of the pregnancy, we discovered that the foetus was dead," he said.
He said Tusingwire's husband, who had gone home on Thursday to organise the family after the evacuation from Kilembe, had not returned.
true
Giant waves smashing against what is left of buildings
He said the other patients, whom he described as critically and chronically ill, were recovering.
The hospital medical superintendent, Dr. Edward Wafula, said there were 195 patients admitted to the hospital before the floods occurred at about 9am Thursday.
All the patients were evacuated by ambulances, government vehicles and private cars.
"The patients and their caretakers started fleeing for their lives, so we decided to help out those who were in critical condition," Dr. Wafula said.
 
Kilembe health teams follow patients
Teams of Kilembe Hospital health workers, led by the hospital Medical Superintendent, Dr. Edward Wefula and his deputy, Dr. Robert Tiondi, had by Friday morning started moving to health facilities to which their patients had been re-located.
"We are concerned about the health of our patients so we have decided to follow them up to assist in responding to their health challenges," Dr Wefula said.
true
Electricity wires hanging low after floods destroyed poles
"We shall serve them in three shifts – morning, afternoon and evening as we do at Kilembe," Wefula said.
But by press time on Friday, some of the relatives had started shifting their patients from Kasese Municipality Health centre III and Bishop Masereka Medical centre to Kagando and Bwera Hospitals.
Most families that had returned to some parts of Kilembe valley were by press time relocating to Kasese Town.
An emergency response team comprising of officers from UPDF, district and several local organisations is traversing flood-hit areas in Kasese to rescue victims and assess damage.
true
Defence minister Crispus Kiyonga (in coat) assessing the aftermath of Thursday's floods
Wilson Asaba, the assistant chief administrative officer and focal person on disaster told New Vision that relief efforts would focus on draining the river Mubuku bed.
"We are mobilizing equipment to deepen the river bed and remove some boulders so that the river can flow freely," Asaba explained.
Asaba said the team was conducting a thorough assessment of the damaged caused by the floods
Meanwhile, the Rwenzururu king has requested Government and other agencies to comprehensively research into the causes of the floods that have increasingly caused death and destruction in the Rwenzori region.
Five major rivers, Rwimi, Mubuku, Nyamwamba, Nyamugasani and Lhubiriha have recently been simultaneously bursting their banks flooding neighbouring communities.
true
Floods swept giant boulders causing mayhem to people's homes
In the first week of May last year, the rivers flooded killing 8 people destroying gardens and infrastructure valued at over sh35b.
The worst hit facilities included Kilembe Mines Hospital, in the former copper-mining Kilembe Mines valley, which stand next to River Nyamwamba.
In a press statement, the king, Charles Wesley Mumbere, Charles Wesley Mumbere Irema-Ngoma,
"My family and I are deeply touched and extended our heartfelt sympathies and condolences to all who were affected by yesterday's floods in Kasese," he said.
 
RELATED STORIES