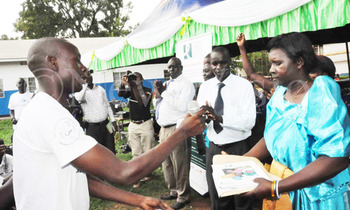 By Patrick Okino
Unreliable power supply, poor referral system, shortage of water source in the delivery wards, understaffing and low funding are severely affecting health service delivery according to White Ribbon Alliance (WRA), an NGO.
In a petition to parliament on Tuesday, the body urged the government to provide adequate funds to the health sector.
This will improve the status of health centres in the country to effectively provide emergency obstetric and new-born care.
Senfuka Samuel, the project coordinator WRA said their assessment in 2013 shows that health centres don't provide caesarean and blood transfusion to mothers facing complication during pregnancy and childbirth. 
Lira district woman MP Joy Atim Ongom received the petition at Mayor`s Garden in Lira. 
The petitioners indicated appalling status of emergency life-saving services for pregnant women and new-borns in health centre IIIs and Ivs.
"Childbirth continues to be a death trap claiming the lives of 17 mothers and 106 new-borns everyday due to inadequate government investment in life saving emergency care," said Senfuka on Tuesday during the launch of "Act now to save mothers."   
In the district the data shows that for the last six months, 184 new-born babies died and there is no functional theatre in Ogur and Amach health centres IVs according to the assistant district health officer Edmond Aceka.
"The only way to avoid these unnecessary deaths is for pregnant women to have access to life-saving services in a facility where there are caesarean sections, surgical capability for uterine rupture and safe blood transfusion can be performed," Senfuka said.    
 "We therefore call upon you to use your representatives and budget appropriation roles to prioritize and allocate sufficient funds for life saving care services for pregnant women and new-born," the petition signed by Moses Ogwang Adonyo, chairperson Lira district health and education committee says.  
RELATED STORIES