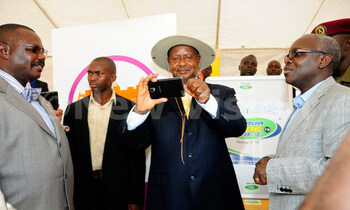 By Richard Drasimaku
President Yoweri Museveni has launched Urban, a Vision Group free-to-air television channel, in Arua district. Vision Group extended Urban TV signals to West Nile recently.
The launch took place at Arua Hill Boma grounds Monday, where the President was presiding over celebrations marking 100 years of West Nile's integration into Uganda. 
During the same function, the President also officially launched Arua One, a leading FM radio station in West Nile.
Arua One is also owned by Vision Group. Museveni autographed the logos for both Urban TV and Arua One FM.
James Serunkuma, Vision Group's head of television production, said Urban TV would provide up-to-date national and international news and information within a 60km radius of Arua town. "This is the first free-to-air English TV channel in this region," he said.
He said Urban will offer a rich menu of educative programmes to help the people move out of poverty through promotion of their businesses. 
Nixon Owole, the Adjumani district chairman, praised Vision Group for offering good programming on Arua One FM.
"Arua One is more appealing to the youth. That is a good target audience and the programmes are educational," he said.