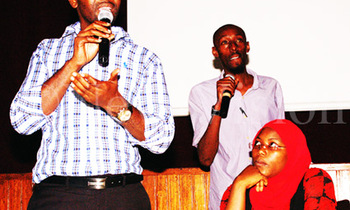 By Nakato Joyce
Low income, lack of basic necessities and poor conditions of living are among the factors that have forced many of the refugees into the prostitution.
Over 328,997 refugees have found their way into Uganda for the past two decades from conflict torn neighbouring countries of Uganda, according to a report that has been released by the Refugee Law Project in conjunction with Makerere University School of Law.
With the biggest number coming from Democratic Republic of Congo, and others from Eritrea, Rwanda, Somalia and South Sudan among others, over 46,435 refugees are now living in Kampala. Out of these, 9,846 are girls below 18 years while 6,691 are women.
true
Some of the refugees during the launch of the research report and video documentary on psychosocial challenges faced by vulnerable refugee women and girls in Kampala at Pope Paul VI memorial hoyel. Photo by Tony Rujuta
Many flee to Uganda seeking peace and security from political turmoil while many are escaping political and social persecution. 
This has seen many of them turn up in large numbers in the refugee camps and settlements scattered across the country while some have chosen to live within the city.
 
 Hunger, poverty and slum life
 The psychosocial challenges faced by vulnerable refugee women and girls in Kampala. The 2013 report that surveyed 153 refugee girls revealed that many of the refugees have failed to get well paying jobs due to lack of academic credentials. 
This restricted them to living a hand to mouth lifestyle with many relying on churches and market rubbish heaps where they scavenge for something to eat.
Yusrah Nagguja, the program co-coordinator at the Refugee Law project said that this state of living has forced the refugees into the dangerous trade where many are offering their bodies in exchange for money while others have been raped and left with unplanned pregnancies in addition to Sexually Transmitted Diseases and Infections(STDs/STIs).
"Many women and girls have limited opportunities to education and healthcare. 
This has severely crippled their chances of  improving their quality of life and in the end, many feel impoverished and trapped in their dangerous surroundings which is also compounded by the fear of the sexual predators around them" she noted. 
Recommendations
The report calls for the intervention of government in the plight of the refugees that is growing more and more appalling. 
There's need to address the exploitation and denial of human rights which refugee women and girls through providing them with academic and income earning opportunities, something that will go a long way in empowering them and this can be done by  government involving refugees in national provision of basic quality services more especially health services.
 In the same way, there's need for meaningful involvement of refugee women and girls in the design, planning implementation and evaluation of programs and policies meant for them and those targeting wider categories of refugees as well.
Government also needs to revise some of the policies and laws that pertain to the situation of refugees in the country so as to help further their integration into the society.