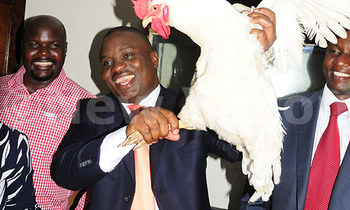 By Taddeo Bwambale & Andante Okanya

KAMPALA - Court of Appeal has ordered the embattled Kampala Lord Mayor, Erias Lukwago, out of City Hall, hours after he returned to office on Monday morning amid fanfare.

On the same day Lukwago reported back to his office accompanied by a group of his loyals, the Attorney General, Peter Nyombi, filed an ex-parte (one-side) application at the Court of Appeal headed by the acting Chief Justice, Stephen Kavuma.

The appeal was meant to challenge an earlier order issued on Friday by the High Court Judge Lydia Mugambe which temporarily stopped the by-election for Kampala Lord Mayor, pending the outcome of the petition filed by Lukwago.

Lukwago is challenging the tribunal report that resulted into his impeachment.
His lawyer, Abdul Katuntu said they would petition the Supreme Court to have their client stay in office.

Earlier on Monday, Lukwago led a procession from his home in Wakaliga to City Hall accompanied by his deputy Sulaiman Kidandala, Medard Lubega Sseggona, Allan Ssewanyana among others.
He then entered his office amid a tight police presence.

The Mayor, in a dramatic move, first declined to sit in his leather-black seat before Sheikh Seifullah Mulindwa from Kibuli Mosque arrived to conduct prayers to purify the office.
Prayers were held inside the office before an overjoyed Lukwago finally settled into his seat.

Later on he addressed a press conference where he called on all councilors who wanted to impeach him to join him to serve the people.
true
Lukwago was welcomed back to his office early Monday. PHOTO/Eddie Ssejjoba
true
He refused to sit in his chair before Sheikh Seifullah Mulindwa could purify it. PHOTO/Eddie Ssejjoba
true
Prayers were also held on the day of his return back to office. PHOTO/Eddie Ssejjoba
The interim order
true
true
RELATED STORIES

Erias Lukwago kicked out of office

Minister Tumwebaze explains Lukwago's impeachment
Lukwago on his way out of KCCA