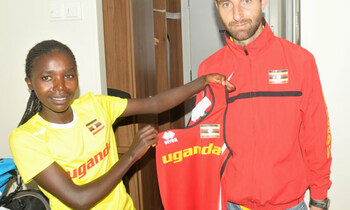 By Norman Katende in Denmark
The national athletics federation will be running in a new red kit starting with the World half marathon, a vote of confidence from Italian kit manufacturer Errea, who are promising to unveil their kit sponsorship package next week.
The kit was delivered by a director at the company, Giambrone Giuseppe, to Team Uganda at Radisson Hotel in Copenhagen, Denmark
Although the kit will be used by the athletes, that will be just a sample as the main new kit will be unveiled next week in Roma, Italy.
Giuseppe held talks with the federation  during the national cross country championships and  felt that they need to work with them to help in the advancement of  sports.
"We just did a special kit for Copenhagen when they asked us to come in but we have a longer plan for Uganda and we will officially unveil it next week. What we have is for the World half marathon," said Giuseppe in an interview.
The athletes will be adorning a red singlet with a whit, red and black stripes and words in golden yellow.
"Our idea is to have a long time relationship with Ugandan, helping each other to see that we get the best results," added Giuseppe.
true
The athletes will run the World half marathon in the new kit. PHOTO/Norman Katende
true
The kit was delivered by a director at the company, Giambrone Giuseppe
Uganda athletics had a lasting relationship with Puma, but it was terminated over a year ago after officials in Beijing 2008 and New Delhi 2010 decided to misuse the kits, denying the athletes an opportunity to have them.
They were forced to use the remnants of the puma London 2012 Olympic kits during the IAAF World Championships in Moscow last year.
They were at the verge of signing another deal with another international sponsor, who was expected to start before the Africa Cross Country championships but bad politics and intrigue kept the sponsorship away.
President Dominic Otuchet had said that they are finalising a new deal and Giuseppe said that what should be in the deal will be unveiled at the official launch.