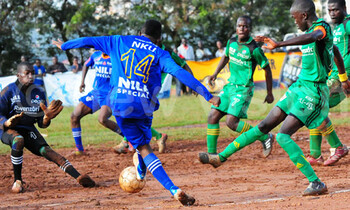 By Swalley Kenyi
Nile Special University Football League
KIU 1 Nkumba 2
Friday
MUBS v Makerere (4pm)
MARTIN Sseruwagi notched the winner with eight minuteson the clock to hand Nkumba their first win in the 2014 Nile Special University Football League at Nsambya grounds on Thursday.
Nkumba had taken the lead through Douglas Muganga in the 21st minute before Fahad Muhammad levelled in the 57th minute.
On Friday, Makerere University Business School (MUBS) host the league's the biggest rivalry pitting them with Makerere University in Nakawa.
The last time these sides met at the MUBS grounds, Makerere University took the day 3-0 and they appear to return to the ground in better form.
MUBS is yet to play a game but Makerere has had a goalless draw against the defending champions Kampala University and will be motivated enough to confront coach Charles Ayieko's boys again.
"We watched them (Makerere) playing against KU and we know their strong and weak points. We shall capitalize on the weak points to get maximum results" MUBS sports tutor Hilary Kimbugwe said who of late has assumed the role of analysing all the games said.