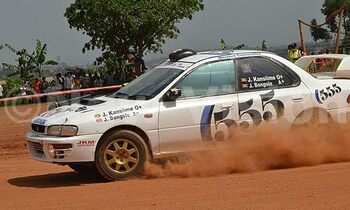 By Johnson Were
 
1. Jonas Kansiime 1:45:20
2. Ronald Ssebuguzi 1:46:27
3. Wilberforce Pole Pole 1:56:50
4. Leila Irene Blick 1:57:07
5. Dr.Ashraf Ahmed 1:57:36
 
NRC point standings:
1. Ronald Ssebuguzi 150pts
2. Jonas Kansiime 140pts
3. Duncan Mubiru 100pts

It was shock of the day as the crew of Jonas Kansiime and Joseph Bongole powered their Subaru N10 to win the Source of the Nile Rally in Jinja over the weekend.
 
Kansiime shocked pre-event favourites Ronald Ssebuguzi (Mistibish Evo9) who finished second and Duncan Mubiru Kikankane who dropped out in the fourth section after his car developed mechanical problems.
 
Kansiime posted 1:45:20 time a head of Ssebuguzi (1:46:27) Wilberforce Pole Pole and Leila Blick that finished second,third and fourth respectively.

true
Kansiime 'showed' his friends dust
 Kansiime who finished tenth in the Super Special stage on day one of the rally at the agricultural show ground gained improvement on day two shocking many fans that had all their bet on Ssebuguzi, Duncan, Fred Wapamba and John Consta.
 
His victory boosted his moral to fight for the 2014 National Rally Champion (NRC) title as he moved to second position with 140points; ten behind former NRC champion Ssebuguzi (150points) on the table standings.
 
Leila not happy with the results:

The only female lady Leila Blick Mayanja despite finishing fourth was disappointed with the result as his focus was on a podium finish.
 
"It is sad that I missed a podium finish but I will push the machine in the next event(MPU Rally ) next month in Masaka to get a podium finish," Blick stated.
 
The OiLibya sponsored crew of Dr.Ashraf and Peter Stone finished fifth while Ismail Otega, Peter Kakaire and Edson Mungyereza came sixth, seventh and eighth respectively.
 
Black widow, Patrick Ssebambulide, Philip King, John Consta, Fred Wapamba, Omar Mayanja, Wycliff Bukenya and Umar Daudi dropped out of the event.
 
"It was a successful event we have not got any report of fans accident, "Clerk of the course Jeff Kabagambe stated.