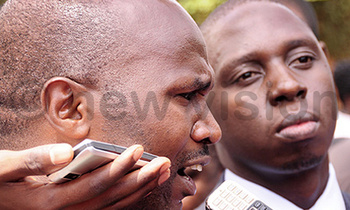 By Hillary Nsambu
THE Supreme Court has set March 21, 2014 on which to hear an application in which the four MPs expelled from the NRM party seek permanent orders restraining the Speaker of Parliament from ejecting them until their appeal is finally disposed of.
The MPs are also seeking for permanent orders stopping the Electoral Commission (EC) from organizing, holding and conducting election exercises in their respective constituencies.
However, the Supreme Court on Thursday unanimously allowed the MPs to temporarily resume their seats in Parliament after the Constitutional Court, on a four to one majority judgment, had ordered them to vacate their seats. The court had also ordered the Speaker of Parliament to eject them and the EC to organise by-election exercises in their respective constituencies.
The four are Theodore Ssekikubo (Lwemiyaga), Mohammad Nsereko (Kampala Central), Wilfred Niwagaba (Ndorwa East) and Barnabas Tinkasiimire (Buyaga). The party accuses them of being indisciplined against the party.
The party had also argued that upon having been expelled from the party their seats automatically fell vacant and they should be ejected from Parliament as the party they represented had discarded them. 
However, having been dissatisfied with the Constitutional Court's ruling, the MPs sought for and were granted the temporary relief by the Supreme Court. 
Two of the four legislators, Ssekikubo and Nsereko, who attended the relieving ruling of the Supreme Court on Thursday, said that they would not wink for any moment before they filed the main application for permanent orders restraining the Speaker of Parliament and the EC from implementing the Constitutional Court's orders that were intended to destroy their political career. 
After the temporary application, the MPs are expected to present to the highest court of the land their main grounds of appeal, whose date is expected soon thereafter.  
According to the affidavit by Ssekikubo, they contend that the decisions and orders of the Constitutional Court raise several constitutional and legal issues that warrant serious judicial consideration by the Supreme Court. They also contend that their appeal had very high chances of success.
He asserted that unless the Speaker of Parliament and her Deputy plus the EC were restrained from implementing the orders made by the Constitutional Court, they would suffer irreparable damages as it would occasion them loss of their political, economic and other fundamental right and freedoms and render their intended appeal useless.