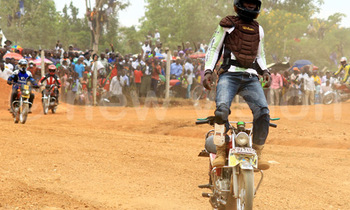 By Johnson Were
MX1 category
Maxime Van Pee 60pts
Arthur Blick Jnr 51pts
Talha Kiggundu 45pts
MX2 category
Fatuh Kiggundu 57pts
Ahmed Tamale 52pts
Ham Karmstra 45pts
85cc category
Alistair Blick 57pts
Ali Omar 46pts
Paddy Blick 42pts
65cc category
Fortune Ssentamu 60pts
Waleed Omar 47pts
Ben Nsumba 47pts
50cc category
Zeb Byaruhanga 60pts
Esther Mwangala 43pts
Habibu Kiggundu 4pts
Female category
Esther Mwangala 60pts
Isabella Blick 51pts
Aminah Mayanja 45pts
MOTOCROSS fans were on Sunday overwhelmed by the improved standards of motocross riders in Uganda but were more excited by the skills the bodaboda riders exhibited during the freestyle shows and left contented that Uganda has talents that simply need to be nurtured.
The bodaboda riders performed stunts while standing and sleeping on their bikes amidst cheers from the mammoth crowd that turned up for the event.
Maxime Van Pee proved that international exposure has improved his standards a lot as he had a one man show in the MX1 category beating challenger Arthur Blick Jnr and Talha Kiggundu with consummate ease.
"Winning is not the most important but the competition in my class was not so stiff as expected but I also think that it's because of the training I do in Germany with Jurgen Coopers," Maxime stated after the event.
Juniors live to expectation
In the 50cc category Zeb Byaruhanga put up a spirited fight to win the event beating challengers Habibu Kiggundu, Esther Mwangala, Aminah Mayanja and Isabella Blick in a tight contest on very dusty track in hot weather.
Fortune Ssentamu excited the fans most when he took part in both the 65cc and 85cc categories respectively.
The 65cc defending champion competed in the category but participated in the superior 85cc class as practice on his new 85cc bike he received from Patrick Van Pee early last week before he upgrades to battle Alistair Blick and Ali Omar Senior.
He won the 65cc category but finished fifth in the 85cc category behind winner Alistair Blick and Ali Omar, Paddy Blick and Wazir Omar who finished second, third and fourth respectively.
Esther Mwangala finished second behind Byaruhanga in the 50cc category but emerged champion in the female category after collecting a total of 60 points, nine ahead of runners-up Isabella Blick.
The event was organised by Speedway Motorsport Club (SMOC).