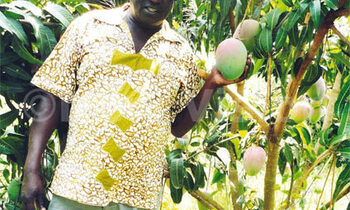 By Richard Drasimaku
trueVision Group, in partnership with dfcu Bank, the Netherlands Embassy in Uganda and KLM Airlines, is searching for Uganda's best farmers. Every Tuesday, in Harvest Money we shall pro le nominated farmers, until September when a panel of judges shall select Uganda's best farmers. Sh150m and a fully sponsored trip to the Netherlands await the best farmers who will be announced in October
When he starts talking about farming, it is difficult to believe Emmanuel Ajedra is not a professor of agriculture. But Ajedra's mastery of the subject was not from the classroom, but circumstances that forced him into farming and his determination to succeed in the trade. A holder of a diploma in social works and social administration, Ajedra retired in 1993 as assistant youth and culture officer.
With his monthly pension of sh28,000, life was hard. He could not support his family on his pension, yet traditional norms dictate a man should do so. Ajedra had saved around sh200,000 from his salary that he used to hire casual labour to prepare the farm and buy the seeds. He says that it is from this money that all his farming investments were born. With vast land available, Ajedra turned to farming.Today he is not just arguably the biggest fruit farmer in West Nile, but also the director of the Nile Natural Fruit Products Ltd.
Ajedra's false start in farming
After taking a fi rm decision to engage in farming, Ajedra plunged headlong — bringing 18 acres under cultivation with different crops. The objective was food security for his family and surplus for the market. But he was wrong. He did not know farming was so demanding.
A combination of bad weather and poor management resulted into most of the crops going to waste. But he did not give up. In 1995, he planted three acres of pineapples near his home at Yapi parish in Dadamu sub-county, Ayivu Constituency. The result was another bitter lesson for Ajedra.
Pineapple prices dropped to as low as sh200 per head in the local markets yet he had no capacity to attract market from afar.
Mango growing
The disappointment forced Ajedra to recoil on his appetite to commercialise until in 2001 when he made another attempt, this time, gambling on grafting mangoes. Grafting is the process of combining two similar or different variety trees to get another variety. Ajedra grafted about 30 scions that he bought from Kawanda research station on young germinating seedlings.
But one night, a heavy downpour swept away everything. "I thought I was doomed forever. But then, I had no options other than engage in farming," says the dark bespectacled 62-year-old.
true
A worker inspects one of the machines at Ajedra's factory Photos by Richard Drasimaku
Seeking knowledge
The three bitter lessons drove Ajedra to seek further knowledge on farming. He decided to enroll for a short course at the Kenya Institute of Organic Farming, from where he visited late Prof. Wanjiru's tree nursery operation and Mt. Kenya area farmers, who were using polythene sheets to clonal coffee. On return, he also attended a workshop organised by the National Agricultural Research Organisation at Abi Zonal Agricultural Research Institute on promotion of nontraditional export crops, including fruit production.
Equipped with knowledge, "I bought another 15 scions from Kawanda, which I successfully grafted. I increased to 100, and then to 300. Now I am at 27,000 seedlings per season and you know we have two seasons in a year," says Ajedra with pride.This means he could bag sh324m this year from grafting since he sells each mango seedling at sh6,000.
Winning formula
Ajedra's winning formula involves hiring labour. He tries as much as possible not to hire relatives because they tend to mix business with relations.
He trained a number of them to help him on things such as preparing nursery beds and watering the seedlings. He has a greenhouse and humidity chambers for protecting the seedlings. He spent sh300,000 on the humidity chamber and sh2.5m on the greenhouse. Ajedra used to buy scions from Kawanda, but now he raises his own.
The root plants are usually sprayed to get rid of fungal and other infections before grafting. The scions are further cleaned with jik as a detergent to ensure that no bacteria or fungus survives to infect the plant during reunion. After grafting, especially of the mangoes, he puts the plants inside the humidity chamber within 48 hours.
This is essential because mango is a hard wood, so, it needs hot and humid temperature in order for the injury to heal during the reunion process. After two weeks, when the green tender leaves begin to appear, the seedlings are moved to the greenhouse to enjoy good controlled temperatures under the fi bre net, which also protects the grafted seedlings from strong winds, heavy rains and hailstones.
The seedlings spend between one-and-half to two months in the greenhouse before they are transferred in the open, under a tree shade for hardening. Thereafter, they are ready for planting or sale. He sells each grafted citrus and oranges seedling at sh3,500 and avocadoes at sh3,000.
true
President Museveni commissioning the juice plant
Diversifying production
For maximum returns, Ajedra decided to diversify into multiplication of cassava stalks, potato vines, banana plantation, apiary as well as poultry and rabbit rearing. He has also planted 1.5 acres of Napier (elephant grass) that he sells mostly to DED, a German NGO with programmes in Sudan.
The National Agricultural Advisory Services (NAADS) is also a big buyer for especially seedlings, cassava stalks and potato vines for local farners.
Interface with farmers
In 2003 when NAADS was piloted, Kijomoro sub-county in Maracha, which was by then part of Arua district chose fruit production and grafting. Ajedra was sent there as a service provider to train the farmers since he already had the knowledge and skills that were largely lacking in the region.
One of the very first farmers he trained was Lawrence Alisiku, who is by far one of the most renowned fruit farmers in Maracha district. He also trained those of Mohammad Drani of Omugo sub -county and others after leaving the NAADS work to concentrate on organising his own farm. His networking and good relation with this group of lead farmers has remained intact and is proving vital for the source of raw materials for the fruit juice factory.
Establishing a fruit factory
Ajedra's remarkable progress in farming led him to think about adding value to his produce for better profits. Lady Luck smiled on him in 2008 when President Yoweri Museveni sent Prof. Charles Kwesiga, the executive director of the Uganda Industrial Research Institute (UIRI) on a mission to West Nile to identify farmers, whose capacities could be built to revolutionise value-added fruit production in the region.
Kwesiga arrived with a team of experts and after initial consultative meetings with different stakeholders, they shortlisted seven farmers, among them Ajedra. In their fi nal analysis back in Kampala, UIRI zeroed on Ajedra, after getting convinced by his ability and impressive farming activities.
The Government decided to build Ajedra's capacity to realise a win-win situation — his dream of establishing the first fruit juice factory in the region and the Governments plan to provide ready market for fruits and promote modern farming to kick poverty out of the households in the region.
After both parties injecting a total of sh10b, the factory lying on part of Ajedra's 7.8 acres of land came into operation in December last year. Providing direct employment to 35 people and indirectly hundreds of hybrid fruit farmers, the factory has the capacity to produce 200 litres of pulp per hour and a daily churn out of 1,600 liters of concentrated pulp.
As a final product, 8,000 litres of thick juice can be produced daily by adding purifi ed water at the ratio of six litres of water to one litres of pulp. Keeping the juice thick was a typical marketing strategy designed to outsell those watery juices frequently found on the supermarket shelves.
true
A section of the fruit processing factory in Arua
Plans
Having realised his vision of having a processing factory, one would think Ajedra has reached the limits of his desires, but Ajedra is not yet done.
He has just rolled out a sh25b plan that would see the establishment of a Polythene Terephthalate molding machine because he considers it uneconomical to transport bottles from Kampala. The money would also be used to acquire a standby generator, drill a borehole to ensure constant supply of water, procure an automated fruit washing machine, five dustproof lorries and cold units for transportation and to consolidate the cold rooms and the factory testing laboratory
 Ajedra has also acquired 40 hectares of land in Opia parish in Vurra sub-county and 500 hectares in Arivu sub-county to expand his own plantation of improved variety of mangoes in phases. "Citrus, lemons, avocados, pineapples and tamarind processing into juice are all in the pipeline.
I am also opening another line of processing avocado seeds into high protein feeds for animals so, farmers should choose what enterprise is appropriate for them," he said. Ajedra's story is a tale of a typical rural Ugandan farmer turning the tides round to an indispensable entrepreneur.
His selflessness with knowledge on farming has led him to train many successful farmers across the region that he could as well be regarded the father of modern fruit farming in West Nile. Listening to Ajedra about his farming routine, he speaks like a university professor of agriculture. However, he holds a diploma in social works and social administration
Farming Tips
What you need to know before planting mangoes 
By Joshua Kato
One of Ajedra's key enterprises is growing mangoes. However, before one plants mangoes, there are key aspects that they must put into consideration and they include;
1. Although mangoes can grow in varied kinds of soil, it is preferable to plant them in light, well-drained soils with low fertility.
2. Plant windbreakers at boundaries before planting the trees to protect the tree from wind. Mango trees prefer frost-free climate with a cool dry winter. Mango tree growers must also plan for irrigation and drainage to prevent soil erosion. About six million litres (ML) per year per hectare of mango tree is needed. Drain water in grassed areas.
3. Choose the appropriate mango variety that is best suited to your region and climate as well as your targeted market. The commonest commercial varieties include takakata, Grenn, Florigon, apple mango, Palvin and Kent.
4. The actual spacing between trees is still debated. It would depend on the variety of the mango tree planted. However, bear in mind that in spacing trees, there must be enough area for spraying machinery and harvesting aids. It has been recommended to plant only around 200 to 350 trees per hectare. Plant mango tree rows from north to south to maximise sun exposure
 5. Choose between grafted plants and seedlings. Their choice would depend on the mango variety they choose as well as their desire for early harvest. Grafted trees may produce in its third year, but only reaches its peak in its sixth to eighth year, whereas seedlings take longer time to grow. Places where you can go for grafted mango trees include Kawanda National Agriculture Research Centre.
6. Dig holes big enough for the root to settle comfortably. Aim for a mango tree with eight main supporting limbs, with a height of around three to four metres. Only a small amount of fertiliser is needed for young trees, but they should be applied often. A proper fertilising plan must be organised after taking a soil and leaf analysis.
7. During mango harvesting, one can harvest by picking the mangoes with stems attached and remove the stems later in your shed or use harvesting aids. However, this system is rare in Uganda. It, however, makes the fruits stay much longer.
Sourced from National Crops Resources Research Institute (NaCRRI)
To nominate: e-mail harvestmoney@newvision.co.ug, giving the name of the farmer, Village, district, Tel. contact
or SMS: TYPE Tel.contact District 8338