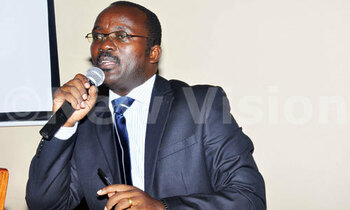 By Francis Emorut

The National Water & Sewerage Corporation (NWSC) is disconnecting water supply of several government institutions, including Luzira Prisons headquarters which has an outstanding bill of sh6.7billion unsettled.

Also affected are Prisons offices on Parliamentary Avenue with an unpaid bill of sh11m while the Luzira headquarters owes sh24m.

For the case of the Prisons, the disconnection order was issued on February 18 signed by a NWSC official who removed the Prisons water meter.

Repeated attempts to get a comment from the Prisons spokesman Frank Mbaine were futile.

The corporation's crackdown has already seen water supply at the Nursing School near Mulago Hospital also cut off.

Dr. Silver Mugisha, the managing director of NWSC, says government institutions owe the water body sh30billion.

He complained that despite the permanent secretary to Treasury Keith Muhakanizi directing the ministry of finance to pay, the payment hasn't been effected.

Other defaulters are the army and the Police.

"Government institutions are still rebellious. Ministry of finance has written to institutions to pay the bills but they haven't," said Mugisha, mentioning that the Police owes the corporation sh9billion.

NWSC plans to install 300 prepaid water meters to reduce on water loses.

"This is therefore to request you to clear all your dues within two months (February and March 2014) so as to allow the commencement of installing prepaid meters," Muhakanizi wrote in a letter seen by New Vision.

"Failure to comply will lead to the disconnection of your water supply by National Water and Sewerage Corporation."

The letter was copied to head of public service and secretary to cabinet John Mitala, his deputy, accountant general, the permanent secretary to the ministry of water and environment, auditor general and the managing director of NWSC.

The crackdown will be carried out to disconnect 32 government institutions that owe the water body money as of June 2013.

The institutions include:
Uganda Police Force sh9.8b
Ministry of Defence sh5.5b
Mulago Hospital sh5b,
Jinja Hospital sh452.7m
Gulu Hospital 423.8m
Finance planning
Economic Development sh274.1m
Makerere University sh270.6m
Ministry of education and sports sh244.5m
President's Office RDC sh45.4m
Office of the Prime Minister 64.3m
Gender ministry sh15m
Courts of Judicature sh51.4m and others.