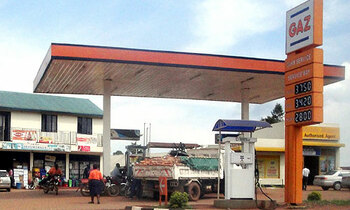 By Steven Candia & Simon Masaba

The police flying squad has arrested a gang of nine thugs said to be behind last week's murder of a police officer attached to Kajjansi police station.

Three of them are South Sudanese.

The team recovered three AK 47 rifles from the suspects behind the killing of Cadet Officer Joseph Bigirwa.

He was the officer-in-charge of Kajjansi police station, and was shot dead last Friday as he responded to distressed calls for help.

Flying squad boss Charles Kataratambi said the thugs were arrested from various parts of the country.

"Two were arrested in Iganga, one from Mbale, one from Hoima and the rest from Kampala," he said.

They are being detained in various police stations on the charge of murder and aggravated robbery.

In the 11.40pm local time (EAT) incident, police reported, an unknown number of thugs dressed in civilian attire and armed with two SMG rifles attacked GAZ petrol station and a Mobile Money point which is located within the petrol station.

"They put all the pump attendants and the Mobile Money operators at gun point," Kampala metropolitan police spokesperson, Ibin Ssenkumbi had said hours after the attack.

"They fired several bullets in the air during the robbery.  The assistant superintendent of police (ASP) Bigirwa, who was within the vicinity, responded to the gunfire by shooting at the thugs using his pistol.

"He was shot in the chest and stomach by one of the thugs and he died instantly," he had said.

That night, the robbers made off with sh11m from the Mobile Money agent after holding him at gunpoint and also took over sh200,000 from the pump attendants.

Now the suspects will be paraded later today (Friday), Kataratambi said, declining to divulge their identities.

The nine have been interrogated and have recorded statements, he said.

The police boss added: "All the butts of the guns had been sewn off and are different from ours. Even the magazines are different, confirming that they are from South Sudan."