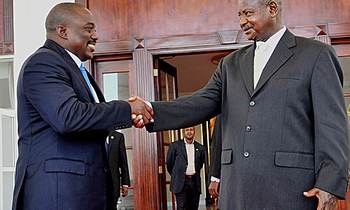 By Vision Reporter

President Yoweri Museveni has hailed President Joseph Kabila of the Democratic Republic of Congo upon the successful operation of the Congolese army in flashing out the ADF rebels in the Eastern part of the country.

"The DRC army operations overrun the headquarters of the ADF in the Eastern Region. I want to thank President Kabila and congratulate him upon this successful operation of flashing out the ADF," the President who is currently attending the NRM caucus retreat in Kyankwanzi said at the sidelines of the retreat.

President Kabila personally called President Museveni to inform him of the successful operations that will see the region experience more peace free from rebels.

Recently the Democratic Republic of Congo forces attacked Ugandan Islamist rebels in the lawless east, launching a U.N.-backed offensive to clear insurgents from the mineral-rich zone. Government troops moved in on positions held by ADF-NALU rebels who have been based in Congo for years and are seen as a major obstacle to peace in the region.

Another rebel movement, M23 that had operated to the south of Beni was defeated late last year.

ADF-NALU is an alliance of groups opposed to the Ugandan government that has operated from bases in eastern Congo since the mid-2000s. ADF-NALU has been blamed for a spate of recent attacks and kidnappings around Beni, including the deaths of some 40 civilians in an attack on Christmas Day.

Museveni had complained before about what he described as a terrorism conservation project in Eastern Congo supervised by the UN all these years but was optimistic that his government was working well with the Congo Government to end the presence of the ADF in Eastern Congo.