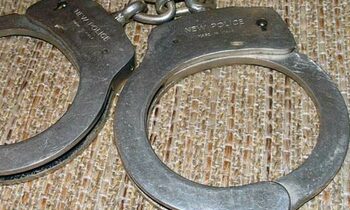 By Jeff Andrew Lule

Police together with the reserve force officers in Kawempe have arrested 60 suspected robbers and iron bar hit men who have been terrorizing the area.

The suspects detained at the Kalerwe Police, were netted in a Wednesday night operation and other neighbouring areas.

The operation which was headed by the commander of Kalerwe Police, Charles Nsaba, started at 8:00pm till morning.

According to the Police, the suspects were allegedly using hammers and iron bars to hit people and take off with their items.

Police recovered hammers, iron bars and other sharp objects during the operation.

Nsaba said many of the suspects are former convicts and had just been released from Prison.

"Many of these suspects are former convicts who had just been discharged from prison. But we shall not give room for such acts in our area. We want people to move safely and operate their businesses without fear," he said.

Nsaba said the suspects had changed tactics and were now using graduation gowns to hoodwink their targets.

"They have been putting on gowns and hide in dark corners in narrow trails. It is very hard to identify them at night. They would then attack people," he notes.

Police first arrested the key suspects identified as Charles Teefe 27 (turn boy) resident of Kaleerwe zooni and Ronald Muyimbo 24, following a tip off from residents.

"Residents tipped police that the two were heading a gang attacking people with iron bars, knives and hummers. We immediately launched the operation where we arrested them and gave us links to their colleagues," Nsaba noted.

The two were reportedly found wearing graduation gowns with knives and hammers. "They confessed that they use gowns to hide their identities from those who know them," he said.  

Nsaba said the suspects are to be charged murder, robbery and other related crimes, when thorough investigations are complete.