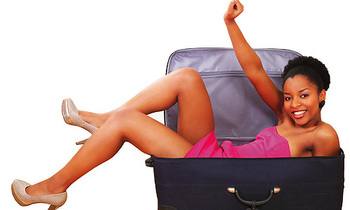 School is back! In the last days of the holidays, besides doing the assignments you were given, the only reason anyone would have a pen and paper in their hands is to check their shopping list! Who wants to beg for sugar, grub and other stuff on the very first morning at school?
For the guys… By Humphrey Wampula
Guys are somewhat lucky! We don't have as many things to take to school, plus, we don't even have the pressure to…unlike the girls! Well, that could be both true and false, but that's a debate for another day. Let's get down to the basics that we think everyone of you should have. 
Toiletries : Soap, loofah, lotion, deodorant...e.t.c
Contrary to our zeyis, nowadays, you will want to add things that will help you walk out of the shower feeling fresh. These days it's no longer just about having water splashed on your body. It is about people knowing that you actually bathe and smell fresh. Get yourself soap, a loofah (sponge) and put them to good use.
For lotions and petroleum jelly, we guys are usually never picky, unlike the girls. We just use any lotion that crosses our path. Warning: get to know  the kind of skin you have. If you have a dry skin, look out for something that will moisten your skin. All those lotion bottles have something written on them.
Read and find out what that lotion, whose packaging you've landed for, is best for. Also, just because it is labelled as lotion or petroleum jelly is no excuse for you to have it if it smells like decomposing fish. Here's a little secret, girls like guys who smell good, not guys who smell like chemicals.
Grub
Who dares to enter school without grub? Who dares to start school without at least the very least…a loaf of bread! Who dares to start school without odi (peanut butter)?
Well, unless it is against school policy. See, school is such an arena of survival. So much that grub is an important ingredient. I mean who reads on a hungry stomach?
Boxers & vests
The 'female committee' has for long complained about boys' bulging pants and funny stench. This is simply because some of us wear wrong size boxers or briefs. How do you avoid that?
Have at least seven pairs of well-fitting boxers or briefs. That's one for each day of the week. How hard is that? And while at it, make sure you wash them daily. Wearing underclothes for more than one day without washing is a no no!
Did I forget that you also need a toothbrush and toothpaste? Yeah I almost did, but you should never start school without those two. With a smelly mouth, boy you better lock yourself in dorm the entire term!
For the girls… By Shalom Kalule
Firstly, for both the day and boarding ladies, there is one thing that might make you or break you; that long-toothed thing called a comb. It is something that every girl must have.
If you don't put it to good use, your head may just look like a third world country, neat on some sides like Kololo hill and messy on the other, like Katwe. This magic maker can make you look like your main reason at school is to learn and not to just grow.
Unlike the guys who may be excused for walking into class looking pale, as if they've been mining salt the whole night, we girls have to take care of our skins. Keeping the skin healthy and soft is a priority because a healthy skin is a healthy self-esteem.
Monthly periods are normal for us and are a sign that we are becoming what God intended us to be. So the sanitary pads and tampons should be a priority. Even for those who have not started their cycles, have a spare pack, just in case. Remember, mother nature has never been prisoner to the calendar.  You really never know when your turn will be. Be warned!
The saying, 'its better safe than sorry' is something you should always keep in mind in this case. This goes to what you wear under. Something you know as an underwear. Always have a few spare clean underwear. Not the ones that you normally use but a fresh new pair for in case you have an accident (…periods to be exact).
Oh, let me not forget one fundamental thing which is soap and a sponge. No one wants to be 'a.k.a ed' as a smelly-girl. Soap and sponge go hand in hand with deodorants to save you from body odour. 
Have a blast this forthcoming term! Adios!