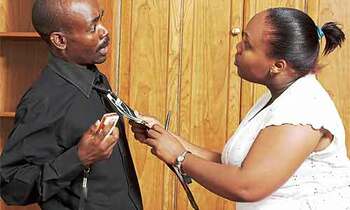 By Elizabeth Namazzi
Toro princess, Ruth Komuntale has decided to leave her husband, Christopher Thomas. They were married for only 11 months. Her reasons for leaving included infidelity, physical and emotional abuse.
 
When she announced this, many applauded her courage but, interestingly, some expressed disappointment that she had given up too soon. Some women actually advised that she forgives her husband, especially after his Facebook apology, a typical reflection of how easily women forgive their errant men.
 
Often, it does not matter what the man has done. Many have been beaten, abused, cheated on and even denied child support, only to welcome their prodigal men back with open arms, even many years after.
 
WHY SO FORGIVING?
 
Kasalina Kayondo, a married mother of three, argues that some women forgive easily because religion expects them to. "A staunchly religious woman will take her man back despite everything he has put her through," she explains.true
Kayondo says she would forgive her man for any wrong doing for the sake of her children. "However, I would be indifferent to him. We would separate bedrooms. Allowing you back in the home does not mean sharing a bed with you. My children are the only reason I would take him back," she says
 
Brenda Kaggwa, a mother of three, agrees with Kayondo, saying children need their father in order to grow into responsible human beings.
 
"Besides, children always have these questions about their dad, especially when they hear other children talking about their own fathers. What do you tell a child?" Kaggwa asks.
 
She says she appreciates that men are only human and should be forgiven.
 
"Besides, I would not want my children to have different fathers because society and my religion despise women who have children with different men. I would just stay with the man to save myself the embarrassment," Kaggwa explains.
 
Christine Kizito, a 35-year-old born again Christian, points out that Christian women actually pray and fast to have their errant men back. And, of course, there is always the fact that others never stop loving their men despite all the hurt.
MEN SPEAK OUT
Joshua Muganga believes women are very forgiving because society expects them to.
"Society is to blame or thank, because it expects women to be more forgiving, loving and understanding. When getting married, most women are told never to return to their parents' homes, while others believe that a man can return to his marital home whenever he wants to.
"Women who are brought up in societies like these will welcome you back even if you have been gone for 30 years," he says.
Justine Sendagire, a father of four, believes that it is the Christian teachings about forgiveness that keep most women in such a marriage, hoping that the man will change.
 
EXPERT VIEW
Jean Kyomugisha Nuwagaba, a counsellor with Care Counselling Centre, Kampala, agrees that women do seem to have an extraordinary gift for forgiveness. She explains that this is because women consider several things before quitting a relationship.true
One is the fact that most people date for long, sometimes years, so throwing away all those years of dating comes into question when a partner errs.
Nuwagaba adds that some women stick to the relationship for fear of being alone, especially if the woman was single for a long time before she met the man.
"Some women take their wedding vows seriously. When they say for better for worse, they mean that they will stay with the man no matter what. This also means that they will have to forgive a lot," says Kyomugisha.
Former US First Lady Hillary Clinton, when campaigning for presidency in 2008, admitted that she had been embarrassed by her husband, Bill Clinton's cheating, but said she knew all along that he loved her.
"Because I had tremendous faith, I really had to dig down deep and think hard about what was right for me and what was right for my family," she told US talk show host, Tyra Banks.
Many could not imagine the heartache she felt as she heard her husband speak to the nation about his inappropriate relationship with Monica Lewinsky. How could she get over this?
Beatrice Nandawula, the head of Makerere Guidance and Counselling Youth centre reckons: "She got over the embarrassment and heartache the same way other spouses deal with it. She learned how to cope. She made a decision to love. She dealt with her anger. In time, she was able to forgive."
NOT SO FORGIVING
However, saying every woman forgives easily is misleading, for there are women who will not hesitate to walk away. Cissy is one such woman.
"My husband was physically and emotionally abusive. Although we have two children together, I realised that staying with their abusive father was not good for them. He was not the best example of a father and a husband," she says.
Even Kaggwa who says she can stand anything for the sake of her vows has a breaking point. "The only thing that can take me out of my marriage is adultery and diseases like AIDS," Kaggwa says.
Kyomugisha advises that situations like domestic violence should not be tolerated because of the dangers involved.
"If the man is physically abusive, a woman may need to think twice.
IF YOU MOVE ON
true
Once a woman has children, it becomes more difficult to walk out of a relationship no matter how bad it is. Most women cannot imagine raising the children alone

If you choose not to forgive your man, Kyomugisha advises that you make a deliberate effort to provide father figures for your children.
"Your male relatives, like uncles, brothers and grandfathers can come in to help. Their father should also have a chance to develop a relationship with them so visits should be arranged for this," she advises.
From Cissy's experience, it is not easy to move on and raise children as a single mother. "But it can be done, especially if you have supportive family and friends around you.
No woman should take more than she can handle for the sake of forgiveness, the children, religion or identity," she advises.