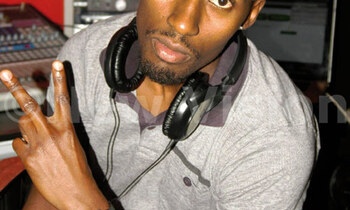 trueVision Group in association with Twaweza Initiative and Buzz Events are seeking to recognise artistes whose compositions advance society. Today, Elvis Basudde brings you Michael Kakooza (Ross) whose music is inspired by the woes of people in society
Twefeeko (Let us fend for ourselves) is one of the very many songs that were written as part of the community initiative, spearheaded by Twaweza, an East African civil society organisation. A number of artistes were chosen to write community–based inspirational songs that promote positive change in community. These particularly centre on clean safe water, cleaning wells and good hygiene.
The song was jointly written by Michael Kakooza aka Michael Ross and Omulangira Suuna, who also performed it with Rema Namakula. It is in Afro R&B style and it was produced in 2012 by Ken of the Bars Audio, a sister company of Swangz Avenue studio. But as the artistes were writing songs in a creative process, they found themselves talking about the leaders voted into power.
As the title implies, the song urges people in the communities not to wait for their MPs or the President to clean up wells for them. "It is upon us as community members to take care of ourselves. Let us fend for ourselves to maintain our roads, collect garbage and support the elderly," go the lyrics of the song. The song also talks about the respective leaders we put in power to do the work they are supposed to do, to walk the talk to change the country.
Those leaders should take it upon themselves to bring about positive change in the community by stopping corruption, building schools and hospitals and improving the standard of living. The chorus goes like: "Buddies, let us fend for ourselves, support each other. You can make your life a little better, it gotta be now or never, it only takes one person to make a change. Let us stick together."
Other songs
Unstoppable talks about overcoming obstacles in whatever it is that one does to become successful and live their dream. Ross also has a gospel song Gwe Mukama, where he calls on God to fight his battles.
"When everything has failed, go down on your knees and seek His guidance, because God has the final say to all situations," goes the song.
Who is Michael Ross?
He is an R&B Afro Pop singer, dancer and song writer. He was born in Kampala in a family of 14 to Joseph and Immaculate Kasibante. Ross joined the music industry in 2002, after dropping out of Senior Six, because he was so obsessed with dancing. He boasts of being the only East African artiste who can sing and dance at the same time. Ross started his career as dancer while in primary school. He gained so much popularity among the youth as the "Usher Raymond" of Uganda because he used to dance like him.
During his secondary school years, Ross and three other talented youngsters started performing in a group called 'Boys in Rhythm', but he has since gone single. While in college, Michael adopted the stage name 'Ross' as he resumed his passion for dancing. His performances were staged in schools, universities and at various public shows.
After college, Ross decide to take his career to the next level by giving a shot at singing, an idea that paid off well with his first single Hey Senorita that was a runaway hit, hence earning him a PAM Award in 2003. He is not married.
Challenges
One of the challenges he faces is trying to balance the fact that he sings predominantly in English and he also sings some Luganda songs.
He says he finds it hard to balance between English and Luganda songs because he has a certain portion of his fan base that like his English songs and the other portion that prefer his Luganda songs. "Another challenge I find is that we do not have a strong copyright law. This makes is hard for us to make enough money because people do not buy our music. We only make money from concerts," he says
 Power of music
Ross says music is mightier than a gun since it has the power to incite love or hate. He adds that over the years music has been used for positive change worldwide.
People like Lucky Dube who was living predominantly in a racist country, South Africa where apartheid was the order of the day, was able to bring about change through his music. "When you take an example of President Museveni, during the last presidential campaigns, he did a rap song, You Want Another Rap.
That was one of the main reasons he won the election because many youth associate with rap music and they fell in love with the song. Since music is a powerful tool, he was able to sail through," Ross says.
INSPIRED BY  MICHAEL ROSS SONGS

Veronica Ndujjo, resident of Byeyogerere
The fact that Twefeeko tackles day-to-day matters that take place in our country, means a lot to us the voters. For instance, it talks about politicians and their duties. If you vote for the politician, he should do what is expected of him
Julius Sembusi, resident of Muyenga
Twefeeko is an empowering song. It inspires the youth to take initiative, not only to leave it to the politicians. Politicians tend to be busy. When I listen to Twefeeko, as a youth, I feel the urge to do something about the water, to change the community.
Tom Ticba, resident of Kayunga
The song Tweefeko is an inspiration. It has a positive message. It tells the community how to identify the right people to vote into office. It also teaches people to take care of themselves; to be hygienic and take part in community development.
To Nominate
Write to features@newvision.co.ug You can also nominate via SMS type MUSIC (leave space) name of artiste (space) song and send to 8338. Alternatively, write to the Features Editor, P.O. Box 9815, Kampala or drop your nominations at any of the Vision Group bureau offices countrywide. Nominations close on January 15, 2014
To qualify for nomination, the musician should meet the following requirements;
❑ Be Ugandan
❑ The composition must be original and not pirated
❑ Have innovatively used their musical composition to convey deliberate messages advocating for positive change
❑ Have used their music to mobilise the masses to demand for accountability or for a community cause.
❑ Used their music to highlight societal ills like corruption, poor governance, poor service delivery, oppression and human rights abuses