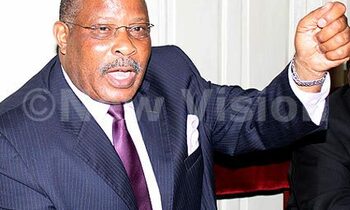 By Pascal Kwesiga                        

The Uganda Human Rights Commission (UHRC) is concerned about the "growing level of lawlessness" fuelled by the re-emergence of the infamous Kiboko squad and police brutality.

The concern was voiced following violent scenes involving the civilians, police and stick wielding men that followed the impeachment of Kampala Lord Mayor, Erias Lukwago by councilors on Monday.

The High court on Thursday granted Lukwago an application for an injunction to stop Kampala Capital City Authority (KCCA) from acting on the tribunal's recommendations to impeach him, until a judicial review sought by him (Lord Mayor) to quash the proceedings and recommendations of the tribunal takes place.

Addressing a press conference in Kampala on Friday, UHRC chairperson Med Kaggwa tasked the government to explain the re-emergence of the notorious stick wielding men who masquerade of law enforcers in riots during which they usurp the mandate of the police.

"We are concerned about the re-emergence of the stick wielding men who seem to be operating alongside the police. We strongly condemn the involvement of unlawful militia groups in keeping law and order," Kaggwa said.

The police have repeatedly disowned the Kiboko squad militia although they are usually seen operating alongside them in breaking up riots in the city. Kaggwa also took a swipe at civilians for taking the law in their hands saying "The incidents of lawlessness by some members of the public in Kampala and its suburbs following the impeachment of the Lord Mayor is uncalled for. Citizens should refrain from taking the law in their hands and any grievances should be settled in a lawful manner."

The UHRC boss, who castigated the police for the indiscriminate use of tear gas, observed that the preventative detention and arrests of opposition leaders violates the inherent right of free movement inscribed in the constitution.