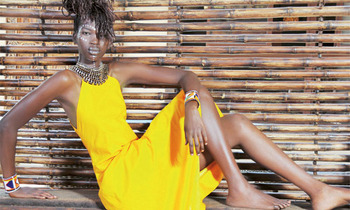 By Vision Reporter
AT first, she said she was intimidated by the other girls and the presence of super model Oluchi. While the Nigerians were swearing they were going to win it all, Uganda's Stacy 'Queen' Aamito was just glad she was there amongst them.
But when the first challenge (a video shoot for a portfolio) of the Africa's Next Top Model was over, Aamito had done better than all the other girls. The four judges all had glowing remarks and South Africa's only super model turned photographer, Josie Borain, could only say one word: "great."
Make-up artist and judge Carl Isaacs said it was a pleasure working with her and Oluchi just told her to keep it up, as the top is a hard place to be. Aamito seemed overwhelmed by the whole thing and could not hold back the tears when told she beat all the other girls.
Meanwhile, Kenya's Steffi and Tunisia's Marwa were the first girls to be evicted; but while Steffi took it in stride and said it was just the beginning, Marwa complained that she had wasted her time.
"I've been here only four days and have not even seen Cape Town and now I'm going home," she said amid tears. "It has been a complete waste of time."
The abrasive Nigerian girl, Wuni, who had been calling the other girls b*****s and how they would go and she would stay, was brought down to earth when she could only come in second last, and she too, cried. 
Catch Africa's Next Top Model shows every Sunday at 8:00pm on Africa Magic Entertainment (AMEnt) channel. Episode 3 is on this weekend and another girl will…