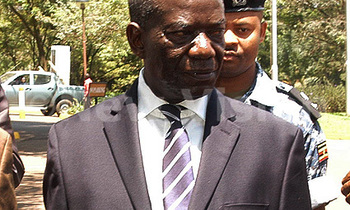 By Andante Okanya

Vice President Edward Kiwanuka Ssekandi has been lined up by the Electoral Commission (EC) to defend it in a constitutional petition filed by two political parties that accuse the body of bias.

The parties in question are Reform Party (RP) and Movement Volunteer Mobilisers Organisation (MVMO).

The EC lawyer Eric Sabiiti made the revelation at the Constitutional Court in a session presided by Justice Ruby Opio Aweri. He appeared with Hamid Lugolobi, also part of the EC legal team.

In the constitutional petition filed on September 20, the petitioners contend that the current Electoral Commission is not independent.

Court had convened to hear an application to temporarily evict EC chairman Badru Kiggundu, his deputy and the five commissioners, pending the determination of the main case.

But Sabiiti asked for an adjournment.

He explained that Ssekandi's affidavit was very vital to enable EC defend itself adequately. He said an appointment with the VP is scheduled for early December.

"We have started the process of meeting him [Ssekandi].We feel we cannot proceed unless we get his affidavit," Sabiiti said.

Cranmer Tayebwa appeared as lawyer for the petitioners, while state attorney Richard Adrole represented the Attorney General (AG).

Ssekandi was the chairman of the Parliament appointments committee that vetted the EC chairman Badru Kiggundu, his deputy and the five commissioners.

Kiggundu assumed office on November 18, 2002 while Ssekandi was Speaker of Parliament from 2001 to 2011.

Sabiiti also requested for more time to obtain the affidavits of Kiggundu and that of his team to support the case.

The EC deputy chairman is Joseph Biribonwa and the commissioners are Tom Buruku, Stephen Ongaria, Jenny Okello, Justine Ahabwe Mugabi, and Tomasi Sisye Kiryapawo.

He asked court to combine a pending a constitutional petition filed in 2009 by a one Dan Mugarura against the AG. Sabiiti said this would help sort out the petitions expeditiously.

Tayebwa and Adrole did not object.

Accordingly, proceedings were adjourned to December 19, when the case comes up for conferencing to determine the contentious facts to steer the course of the case.

The two parties are part of the 10 political parties facing a de-deregistration threat after the EC petitioned the High Court to grant it permission to do so.

EC purports the parties are inactive, saying they have not updated their profiles in the commission's records.

The electoral body also contends that they have not submitted to the commission a written declaration stating their source of funding and other assets, as required by law.

The petitioners want court to declare that the appointment of the EC top leadership by the President is unconstitutional in the current multiparty dispensation.