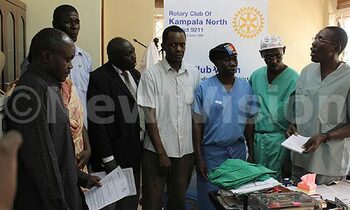 By Titus Kakembo                                         

Some doctors at Mulago National Referral Hospital are destined to the USA through a Vocational Training Team (VTT) organized by The Rotary Club Kampala North.
The mission valued at a cost of $34,100 is partially funded by the Rotary Foundation.

"They comprise a surgeon Michael Oketcho, a theater nurse John Obwin, a cardiologist Jane Francis Mundura, Joseph Edoku, Charles Wesana and their leader Dr. Isaac Okullo," said Dr. John Omagino, the director Uganda Heart Institute.

"The VTT will provide particular hands on activities to train medical professionals from Mulago Heart Institute on cardiac surgery and care," added Dr Omagino.

 "This boosts their confidence and ability to solve heart problems that are on the rise," he said.

Rotarian Godfrey Jogga Sebukula revealed that, the host Institution is the Baylor College of Medicine.

"They will be observing the best practices in heart surgery for children with heart diseases at the Texas Children's Hospital, Houston," added Sebukulu.

Beaming with smiles of great expectations the benefactors confided to return with added value to their patients.

"This is the only way our heart institute will be able to run an efficient surgery and care program," said Dr. Okullo. "We are looking at the quality, timeliness and appropriate patient management."

 This will be coupled by learning the latest practices and getting a deeper   understanding of the rationale of practices in different areas of activities related to heart disease.

When they return, they are expected to formulate plans and ideas of how to improve care systems at the heart institute by having early detection of congenital heart disease in children.

 This will include reduced mortality during or post-surgery and better guidance to parents and guardians responsible for post-operative care.

Through UHI has been increasing its ability to provide care to Ugandan children with heart defects and more than 300 have received surgery since 2009. However, there is need for upcountry health service units to decongest Mulago where every case is currently handled.