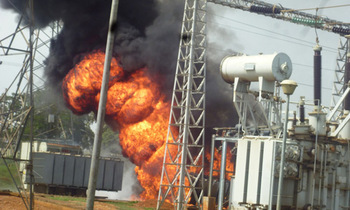 By Jane Ndibarekera
FIRE gutted the Uganda electricity transmission company limited Kampala north plant yesterday located at Mulago on Mawanda Road.
The cause of the fire is still unknown, but it is believed to have started from a transformer that later accelerated into the main facility.
The damage is believed to be in the hundreds of millions of shillings and the electricity board is not sure when they will restore electricity supply as the affected area is wide.
"We do not know how the fire started, we are still investigating to find out what exactly caused it, we shall need a lot of money and peoples' patience in order to repair the damages," Said Hajji Hussein Mubiru manager of the plant.
He added that the company was working as hard as it could to repair the station because the affected areas were many. 
The affected areas include Nankulabye, Makerere, Mulago, Kawempe, Bwaise, Bombo and some parts in the north of the country.
The DPC of Wandegeya Police station Ceaser Tusingwire is glad the fire department arrived in time to contain the fire because he was worried it would move on to the surrounding areas that are heavily inhabited and built of wood. 
He is also worried that since the electricity is going to be off for a while the crime rates in this area will increase.