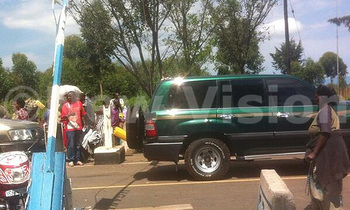 By Vision Reporter

Congolese M23 rebel leader, Bertrand Bisiimwa is in Uganda for peace talks between his group and the Congolese government.

The facilitator of the talks, the Ugandan minister for defense Dr. Crispus Kiyonga sent a chopper to pick Bisiimwa from the Ugandan border at Bunagana border contrary to reports the rebel leader had surrendered to Ugandan security, army Spokesperson Paddy Akunda said.

Regional leaders last month directed that peace negotiations between the M23 rebels and the Government of Congo should resume as a way of ending fighting in eastern DR Congo.

This was in a declaration made at the end of an emergency meeting called by President Yoweri Museveni in his capacity as the chairperson of the regional body, the International Conference on the Great Lakes Region (ICGLR).

The meeting was attended by the four other regional Presidents Joseph Kabila (DR Congo), Salva Kiir (South Sudan), Paul Kagame (Rwanda) and Jakaya Kikwete (Tanzania). Also present were Mary Robinson the UN special envoy to the Great Lakes region and Dlamini Zuma the chairperson of the African Union Commission.

The Presidents directed that the peace negotiations should resume within the three days after their Heads of State summit, and conclude within a maximum period of 14 days.