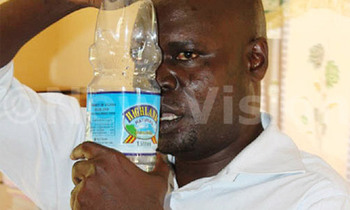 By Godfrey Ojore

Grade One court in Soroti district has further remanded Soroti acid suspect Andrew Francis Obirai. Obirai was to appear before Soroti chief magistrate Lawrence Tweyanze today Monday morning but did not turn up.

Magistrate Sarah Nabusobya who presided over the Court remanded Obirai until Wednesday when he is expected to take plea.

"My court has no powers to hear a case of this nature and is the reason I have adjourned it," magistrate Nabusobya told New Vision at her chambers.

Obirai was clad in grey trousers, sky blue shirt, a black necktie and black shoes. This time however prison wardens refused New Vision journalist from taking Obirai's pictures at the court premises.

Many people, including relatives of Dorothy Atim whom the suspect defaced with acid turned up in court. Unlike other inmates Obirai was not handcuffed and walked confidently pocketing like prison officers.

Obirai handed himself to police in Soroti on Ocotber 14 month after a month in hiding. He was charged with attempted murder.

According to his statement at police, Obirai claimed to have travelled to Juba, South Sudan for business related issues and was not on the run.