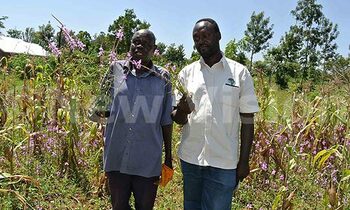 By   Nicholas Kajoba         

Scientists in the region are battling Striga (witchweed) that has affected the productivity of staple foods such as maize, sorghum, millet and rice in the eastern part of the country.  

The most affected areas are mainly, Tororo, Moyo, Bugiri, Busia, Budaka and Iganga.

Farmers bordering Uganda on Kenyan side and Tanzania have also been affected by the Striga weed. Seed systems manager of African Agricultural Technology Foundation (AATF), Dr. Gospel Omanya said that over 100,000 hectares of land has been affected by the striga weed in Uganda.

Striga weed is parasitic weed that affects the productivity of staple food like maize, sorghum and millet. The weed survives by siphoning off water and nutrients from the crops for its own growth. It causes damage to its host crop before emerging from soil by producing phytotoxins which are harmful to the host crop.

Omanya said that over one million hectares of land are affected by the weed in East Africa and over 40million hectares of smallholder farmland in the sub-saharan Africa is affected.

"Striga weed seeds remain dormant and viable in the soil for up to twenty years. With every planting season, some of the seeds germinate and infest the crops while reproducing and increasing the striga seed in the soil," he said.

AATF is partnering with African 2000 Network and National Agriculture Research Organization (NARO) to effectively manage striga weed infestations and enable farmers to increase on the grain yields.

 Ugandan Farmers in the affected areas are facilitated to access Imazapyr Resistant (IR) maize technology which is referred as strigaway maize by farmers and agro dealers.