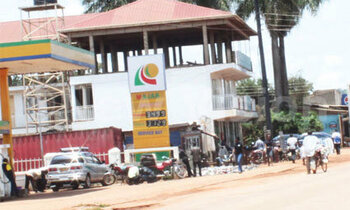 By Stephen Ssenkaaba and Andrew Masinde
trueIn the Make Uganda Clean campaign, Vision Group is profiling major urban centres in the country, highlighting their sanitation situation, culminating into a gala night on November 25, where the cleanest towns will be recognised. Today, we bring you profiles of Nansana and Koboko towns

Nansana strikes a familiar chord. Sometimes for the right reasons, many times for the wrong ones. This fast growing town gained a town council status in 2005. From the bustling markets, boda boda riders and modern buildings, it seems to be taking on more than it can manage.
According to the latest Vision Group survey, this town council is grappling with garbage, which they are finding hard to manage. In the survey all respondents said dustbins in the town were not only insufficient, but also dirty. Overall, the survey reveals, Nansana residents are unsatisfied with the cleanliness of the town, particularly the market areas, streets/roads and waste bins, leading to a below average score of 4.9/10. From the same survey, all respondents said they did not know where to find dustbins in the town.
This is another pointer to the low availability of dustbins in this busy town. According to information from the health inspector's office, there is no garbage skip in Nansana town. People individually collect their garbage, put it into sacks and drop it at specific collection points in the town. This garbage is collected twice every week by town authorities and deposited to a Kampala City Council Authority managed fill, which is 8km from Nansana town. This dire need for garbage facilities leaves the town at the peril of people that dump rubbish anywhere.
According to the survey, 46% of respondents claim to have ever seen someone litter the town over the last three months. There are approximately 40 stalls per market and 25 lockups and with just a handful of dustbins, all these make it more difficult for people to properly dispose of rubbish. The state of public toilets in Nansana is also appalling as only 9% of our respondents claimed to be aware of a public toilet in the town. And where they exist, these toilets were found to be dirty, leading to a lowly 3/10 score.
It costs sh200 to access a public toilet in Nansana. The health inspector's office indicates that there are just five toilets whose cleanliness maintained by the town council. This is bad enough for a town as bustling with activity as Nansana. People largely spend the day moving about and working.
This means that there is only one toilet for every 20,000 people on any single day. Nansana's green spaces are well-maintained;none of our respondents claimed to have noticed overgrown grass, meaning that there are efforts to keep Nansana tidy.
There were also no instances of broken sewers, perhaps because the town lacks a central sewerage system. But some respondents (64%) expressed concern over loitering chicken and animals. Information from the health inspector's office indicates that 75% of the residents in Nansana have access to piped water. Other sources of water include springs/wells and rain water. The town has one planner, three health inspectors
and three engineers

Good practices:
Daily cleaning of the town According to the town council senior community development officer, Lillian Ndagire, the council runs on a budget of about sh2b, the biggest chunk of which comes from central government. The rest come from local revenue collections. Emmanuel Damba, the health inspector said: "We have tried our best. We employ people who clean the town on a daily basis; we also employ road gangs who clean the trenches."
In addition to that, he says they have two trucks that move around the town collecting garbage and waste from gazetted areas. Ndagire says the council embarked on latrine construction in residences within the town and now 80% of the population has pit latrines and toilets

Population growth and sanitation
Damba said out of the total sh2b, sh60m  is allocated to sanitation projects, but this is not enough. He says the increasing population in Nansana has made it more challenging to keep the town clean, but all is being done to improve the situation
"We also set up three public and three. private public toilets.
We also got nonprofit organisations like Living Earth and volunteers who support us in cleaning the town. We have four health inspectors, who work in all the divisions and one town planner. All these have worked tirelessly to improve cleanliness and hygiene in Nansana." Human waste is managed through pit latrines.
KOBOKO TOWN
Koboko lit by tycoons

By Stephen Ssenkaaba and Richard Drasimaku
For a place that has enjoyed town council status for 35 years, Koboko town is like a stunted child. Blame it on the war, lack of funds to improve its appearance, perhaps bad management or the negative attitudes of the local people. Koboko town is choking on rubbish and for those that plan to visit, be careful as you walk around, especially at night. A flying toilet — human waste stuffed into polythene bags might send you to bed with a smelly face.
true
The heart of Koboko town. Photos by Richard Drasimaku
A recent Vision Group survey reveals that the toilet situation in Koboko town is worrying. In this survey, 60% of our respondents claimed to be aware of public toilets in the town. However, they observed that the public toilets are very dirty, leading to a 3.0/10 score. The average cost of accessing a public toilet is sh 173, perhaps many who cannot afford this resort to dumping their waste in polythene bags. Garbage is also a huge headache.
There are few dustbins to serve over 50,000 people, which results into littering of the town. Seventy-three percent of the respondents said dustbins were not sufficient, leading to a 2.9/10 score. The same percentage said it was not easy to locate a dustbin in the town. Another 6% said they had seen someone litter the town over the last three months. According to the town health inspector's office, there are five garbage skips in Koboko town and garbage is collected daily on week days.
This garbage is collected by a lorry and tractor, provided by the central government last year. Sweepers have also been deployed to clean the streets. Given the tight budget allocated to cleanliness and hygiene, this effort is wanting. Koboko town still teems with overgrown grass and attempts to maintain it are poor, according to 47% of the respondents.
There is very limited access to piped water in Koboko. According to the town clerk, Stanislaus Mangasa, the government constructed an emergency piped water system in 2009. "But, apart from serving only 15% of the population, water levels drastically fall during the dry season.
The main sources of water are springs/well, boreholes and rain water. Without the national power, Koboko town is lit by entrepreneurs using big generators which, according to Uganda Electricity Regulatory authority, is illegal. To access power, the residents cut their own poles from the bush, buy ordinary copper wires from the local market to connect their business premises to the generators and pay the owners for the power supplied.

TOILETS
trueThere is a toilet crisis in Koboko town. The existing toilets are largely dirty pit latrines, which are becoming a health threat to residents. "We have quite a number of toilets here, majority of which are pit latrines, but because of poor sanitation, we risk contaminating the boreholes and protected wells," the town clerk Stanislaus Mangasa, said.
There is a looming concern over the contents of these latrines which are dumped into soak pits constructed by the town council near the Uganda —Democratic Republic of Congo border.
"The town council authorities have tried to arrest the situation. We constructed seven communal latrines in congested areas. These are managed by the residents. We also constructed two public latrines near the central market to serve the sanitary needs of the mobile population," Mangasa said.
GET INVOLVED
Doen with the reading? OK now we definitely would like to hear from you
VOTE for the cleanest town and give reasons
WHAT should we do to improve Ugandan towns?
WHAT can you do as an individual to keep your town clean?

SMS: Type clean (leave space) your comment and send to 8338
SOCIAL MEDIA: https:/www.facebook.com/thenewvision
EMAIL: features@newvision.co.ug