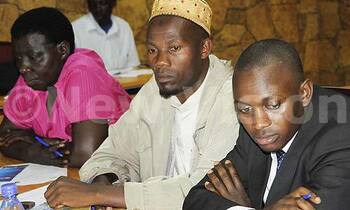 By Jeff Andrew Lule
                         
The Muslim Centre for Justice and Law (MCJL) has called on Government to regulate the Qadhi (Islamic Sharia) courts.

During a one day workshop at Hotel Africana on Friday, the organization's vice president; Nazifah Namayanja said the Informal Islamic courts must be regulated like other formal courts.

"Qadhi court administrators lack knowledge about the secular law and human rights. They continue to handle cases beyond their jurisdiction," she noted.

Qadhi courts are mandated to handle marriage, divorce, inheritance and custody issues but some end up handling case like rape and defilement, according to Namayanja.

She said the Qadhi Courts also need to be gazzetted and put up minimum qualifications for the administrators.

"Every Mosque is a Qadhi Court. Government should gazette these courts like other secular courts to be easily monitored," she added.

They asked government to pass the Administration of Muslim Personal Bill to become a law to fight injustices among the Muslim Communities.