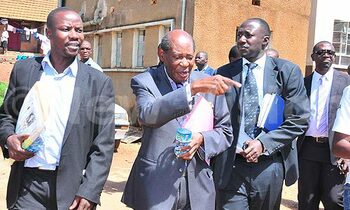 By Vision reporter

The Police have slapped a travel ban on Uganda Red Cross Society (URCS) secretary general, Michael Richard Nataka, as investigations in suspected smuggled goods which were found at his home take shape.

A team of detectives from the anti-fraud section of the Criminal Investigations and Intelligence Department (CIID), headed by commissioner of Police William Kototyo, seized Nataka's passport on Thursday night, after interrogating him for about three hours.

The team went to URCS offices on Kabakanjagala Road in Rubaga division at around 3:00pm and quizzed Nataka till late in the night. However, no statement was recorded as Nataka requested to avail himself at the CIID headquarters on Friday.

"They had a verbal discussion on the allegations (of smuggling) and agreed that Nataka should present himself at the CIID headquarters in Kibuli," said Police spokesperson Judith Nabakooba.

Nabakooba added that the Police was investigating reports that Nataka imported goods valued at between sh500m and sh800m, using URCS' name.

A general enquiry file was opened after the incident, with a view to investigate cases of tax evasion, conspiracy to evade tax, conflict of interest and abuse of office, Nabakooba revealed. Police is likely to expand their probe.

Sources revealed that the Police swung into action after Uganda Revenue Authority (URA) requested them for help in investigations about the suspected smuggled goods.

It has also emerged that some whistle-blowers informed URA and Police that they had, for long, been seeing trucks full of goods being offloaded at Nataka's house.

URA and the Police raided Nataka's mansion in Munyonyo, Kampala, on Monday night, seizing suspected contraband goods worth over sh800m.

A team of URA officials and the Police found a group of people offloading the items, before they called for reinforcement from Kabalagala Police to secure the place.

Meanwhile, sources revealed that URA was by yesterday planning to visit Nataka's hotel on Nkokonjeru Road in Mbale town to check whether some suspected smuggled goods had been transported there.

URA is investigating whether the hotel belongs to Nataka. Investigators also found a recently imported Toyota Tundra pick-up UAT 416K at the house. The tax body is investigating circumstances under which it was imported and registered.

Nataka said the URCS board was aware of the consignment, which was destined for the Africa Youth Leadership Training Centre in Mukono, ran by URCS.

He said the consignment included an ambulance and materials for equipping the centre such as chairs, beds, umbrellas and coffee tables.

 "URCS does a lot of humanitarian work and we have been focusing on self-sustainability. We have a lot of land given by the local government. We have been investing in real estate," he said.

Regarding the vehicle found at his residence, Nataka said it belonged to a businessman, although the Bill of Lading had Red Cross as the importer.