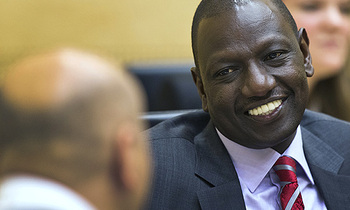 NAIROBI - Kenya's economic upturn provides a bullish case for foreign investors even though the country's leadership is being hauled before the International Criminal Court, the IMF said Monday.

Speaking ahead of a conference to promote East Africa's largest economy, the International Monetary Fund praised what it said was Kenya's strong track record on reform, robust growth and "sound monetary and fiscal policies".

"Based on what I've heard from private sector people since I've been here and certainly just from the numbers... investors are very gung-ho on Kenya these days," said Antoinette Sayeh, Director of the IMF's African Department.

"Certainly I think everybody is aware that there is a trial going on," she said. "They're certainly continuing to see Kenya has very good economic prospects, focussing on the economic returns that can be theirs from engaging with Kenya."

Last week the trial began in The Hague of Kenya's Vice President William Ruto, who pleaded not guilty to masterminding some of the 2007-2008 post-election unrest that left at least 1,100 dead and more than 600,000 homeless.

Kenyan President Uhuru Kenyatta is also facing charges of stoking the worst violence in the east African country since independence in 1963, and his own trial begins at the international court on November 12. He also denies the accusations.

For the moment the two are cooperating with the court, but the country could be plunged into a political crisis if either are convicted and jailed, or face international isolation if they drop out of the proceedings and trigger arrest warrants.

The IMF official, however, refused to be drawn on how the cases could play out and signalled that investors did not appear to be nervous.

"The government is certainly making strong signals that it will continue very strong (economic) policies, that's what the investors are looking at first and foremost," she told reporters.

"What investors know at this stage is that Kenya is a good place to do business."

The IMF and Kenyan government are hosting a high level conference in Nairobi on Tuesday and Wednesday entitled "Ready for Take Off: Kenya's Economic Successes, Prospects and Challenges".
AFP