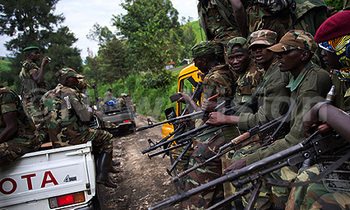 By Raymond Baguma        
             
Regional foreign ministers want the offensive against M23 rebel group halted to allow for peace talks in Kampala, Uganda.
They also want the UN intervention brigade to attack positions of Ugandan, Rwandan and Burundian dissident groups operating in DR Congo.

On Wednesday, the defence chiefs and ministers of foreign affairs met behind closed doors. The military chiefs will report to the ministers who will in turn report to the heads of state who will take a position.

The intervention brigade is also mandated to fight Burundian, Rwandan and Ugandan dissident groups such as Forces Nationale de Libération (FNL), Forces Démocratiques pour la Libération du Rwanda (FDLR) and the Allied Democratic Forces (ADF).

"We want to resolve the problem so that fighting can be on the negative forces. War may not solve the problem," the ministry of foreign affairs permanent secretary, ambassador James Mugume told journalists at the sidelines of the meeting.

This would also be in line with the International Conference on the Great Lakes Region (ICGLR) Pact on Security Stability and Development.
Mugume also said that Ugandan Brig. Geoffrey Muheesi, who chairs the Joint Verification Commission, remains in his position contrary to media reports that he had been deported by the DR Congo authorities.

"He has not gotten any letter from anywhere. He is not working for Uganda, but working for the ICGLR. We have heard from media but he is still chairman of the JVM," ambassador Mugume said.
He added that the UN Stabilisation Mission in the DR Congo (MONUSCO) and the Joint Verification Commission are to examine the recent shelling of Rwandan territory.

Today (Thursday), the regional heads of state meet at the Commonwealth Resort Munyonyo under the auspices of the ICGLR to discuss the situation in Eastern DR Congo.
President Museveni, who is holding the rotational chairmanship of the ICGLR, called the meeting to discuss the security situation in Eastern DR Congo.

The expected delegations to the summit include that of Angola, Burundi, Central African Republic, Republic of Congo, DR Congo, Kenya, Uganda, Rwanda, Sudan, Tanzania and Zambia.