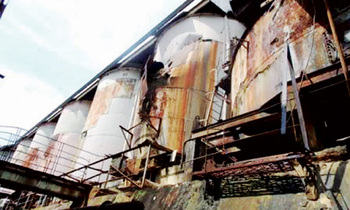 Three decades after Kilembe Mines stopped churning out copper, the site still has vivid reminders of its past glory.  Rehema Aanyu  visited the once vibrant mines. 
At the heart of Kasese district lies Kilembe, an old mining town located on the foothills of Rwenzori Mountain. It is home to the historical Kilembe Mines, a copper and cobalt mining company established in Uganda during the colonial days. It is also home to breathtaking highlands and River Nyamwamba.
In this green vista, Kilembe Mines distinctly stands out. Its rusty and visibly dilapidated structures tower into the skyline, a relic of its past glory.
High elephant grass grows wildly around its premises, adding a little mystery to the mines' historical narrative. 
Incorporated in the 1950s as a mining company, Kilembe Mines produced and exported copper till the late 1970s, earning Uganda foreign exchange and employing a labourforce of over 6,000.  
Kilembe Mines stopped copper mining in the early 1980s. Since then, the company has been involved in power generation, metal fabrications and the manufacturing of machinery such as maize mills, hullers, window and door steel frames.
Treatment of fencing posts, electrical and telephone transmitting poles is also done here. These two sections are separated by River Nyamwamba. 
Getting to the mines
To get to the mines, you cross an old metallic bridge over River Nyamwamba. This bridge links the mines to the workers' quarters, the workshop area where metal fabrication takes place and the bustling town. 
Near the bridge, an old scoreboard used back in the day to recognise and celebrate hardworking employees, still stands today, worn out by time.
Right next to it sits an equally dilapidated old building previously used as the control room. This old building is filled with non-functional radio call equipment tangled in cables and wires. 
It is manned by Mzee Okello who has been with the mines since the 1970s.
Though retired, this former worker still guards the old building. When he talks about the heyday of this company, his eyes light up and a smile forms on his lips. 
"This place used to be full of life. It was like a beehive. In this room, we used to charge batteries of head lamps and radio equipment for the workers who worked underground.
Everyone was respected and earned some good money," he says nostalgically. 
At the other side of the bridge, the mines sit abandoned. Rusted equipment, metals, uprooted railway lines, lie abandoned.
The chairlifts that transported miners through the mine shaft hang precariously on old cable lines. 
Worn out metallic tanks spill their once precious contents.
Impure water containing minerals also flows from the underground in open trenches. Its light green colour is quite attractive.
Previous and current employees loiter around the premises in hope of taking tourists around to earn a little money. On this occasion, we paid one lanky young man to take us around. We even convinced him to take us into an open dark tunnel dug into the earth up to the sea level to extract copper.  
We headed to the entrance of the mine shaft. My excitement was over the top, but as we went a few metres into this dark tunnel, fear and uncertainty kicked in when one of my colleagues asked our guard what would happen in case one of us got lost in the tunnels. 
"You just have to find your way out of the mine because there is no (telephone) network coverage in here, which means that we cannot track you.
This place is very dangerous and if you do not know where you are going, it is likely that you will die in here," he said matter-of-factly. 
As we proceeded deeper and deeper into the tunnel, we came across two crossroads. "Which one goes up to the sea level?" one of my colleagues asked.
"They all lead to one place, but I would not advise any one of you to go beyond this point because it is very dangerous and we did not follow the right procedure," he said authoritatively.
Common sense rather than curiosity got the better of us and we turned to leave the mysteriously exciting tunnels. 
Heavy metal and wood were used to hold this man-made wonder in place. Big metallic pipes run through the tunnels. We were told that one of the pipes transported oxygen for the miners, the other water, and another sand to fill the holes where copper was extracted.
In just those few hours, I had learnt a lot about copper, its extraction processes, by-products, the history of Kilembe Mines and what it meant ot only to the people in Kasese, but Uganda.