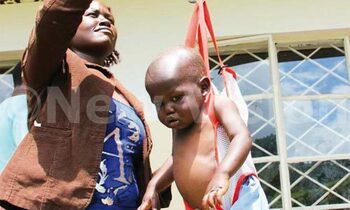 By Daniel Edyegu

As part of its annual series, Ugandans Making a Difference, New Vision will, until October 3, publish articles on individuals and organisations that have dedicated their efforts to fighting malnutrition in the country. The articles will highlight the causes, discuss solutions and recognise the efforts of those working to avert the problem that affects up to 54% of children under the age of 18 in Uganda.

One-and-half-year old Peace Nambozo will instantly reciprocate a smile from any stranger. Seated on her grandmother Fatyia Nambozo' s lap, at Wanale health centre in Mbale district, Peace's world knows no sadness. The innocent smile and her jolly nature, veils Peace's grim past.

At one year, Peace all of a sudden turned pale, developed swellings on the whole body and gradually became thin with low appetite.

"The baby's hair turned dull and she used to suffer recurring fever, dry cough and lost her appetite. We tried treating her with all the locally available medicines, but never saw any improvement. Instead the situation became worse," Fatyia narrates.

Peace was born to a teenage mother who was in Senior Four made the situation the more complex.

Like a drowning man who will cling to any straw within eyeshot, Peace's enrollment for nutrition therapy at the weekly health camp conducted by Kissito Healthcare International, a Christian oriented civil organisation, at Wanale health centre, was more out of trial and error than the belief that anything good would come out of it.

Winnie Namutosi, a clinical officer with Kissito healthcare International explains that Peace bore all the visible symptoms of malnutrition when she was brought.

A measuring tape wrapper around a child's arm to monitor their growth


"She weighed 10kg yet a one-year-old child should weigh at least 11 kg. Peace has added on another 1.5 kilograms since she started on the nutrition program and now weighs 11.5 kg. We are expecting her to gain up to 12 kg by the time she is done with the nutrition therapy. Here in Wanale sub county children suffer both malnutrition and stunting," Namutosi explains.

Kissito Healthcare International is an international US Christian civil organisation based in Mbale, which focuses on nutrition, agriculture, poverty eradication, environmental conservation and natural resources. In May last year, the civil organisation started a nutrition project in Wanale sub county to curtail malnutrition in area. In June, the civil organisation rolled out a similar initiative in Bugobero health centre in Manafwa district.

Since then, the nutrition project has seen the gradual recovery of more than 300 malnourished children in both Mbale and Manafwa districts.

At Wanale Health Centre, every Thursday is the nutrition day for mothers with malnourished children.

Inside the reception of the health centre is a concrete bench, where mothers with malnourished children sit in long queues.

Inside the well-aerated reception is a raised concrete table that serves as a dispensing area for drugs to patients. On Thursday, however, the table serves as a dispensing point for nutritious foods for malnourished orphans.

Angela Abeso, a nutritionist at Kissito Healthcare International, first of all weighs the malnourished children. She wraps the measuring tape around the little arm of the baby to ascertain the progress of their growth in relation to age (anthropometry). The tape is marked green, yellow and green colours.

"Where the tape wrapped around the baby's arm stretches within the red colour, it means the child is severely malnourished; those within the yellow stretch are moderately malnourished, while those on the green zone are okay. For children who are severely malnourished, we start them on ready-to-use therapeutic food to bolster their growth."

"With moderately malnourished children, we give the mothers with packed groundnut paste, millet flour and maize flour mixed with soya. In addition to this, we also provide them with basic medicines and syrup for diarrohea, fever and cough. At present, we don't wholly handle severely malnourished children, but refer them to Mbale hospital for specialised treatment," Abeso explains.

At the reception, Abeso and Namutosi talk to the mothers with their babies and educate them on appropriate nutrition, family planning and moderate income generating enterprises, before they are served the days' packaged items and sent home. This way, the duo has always managed to shoot two birds with one stone.

"Close scrutiny of families where these malnourished children come from indicates that either the mothers are illiterate, are in polygamous marriages or have numerous children. Bamsaaba women are generally fertile and tend to produce many children. Coupled with the rising scarcity of land, families are increasingly finding it difficult to produce enough food to feed large households," Namutosi observes.

Fatyina, the grandmother to the malnourished child, fits nicely into this description. Married to Abdu Wedase in Nabubulo village, Wanale sub-county, the couple together with their seven children, live on half an acre of land.

"We have planted and inter-cropped it with maize, cassava and beans on the same piece of land. The soils are exhausted and yields have drastically dropped over years yet we do not have alternative land," Fatyina laments.

"When Peace was weaned breastfeeding at one year to allow the mother get back to senior five, we started feeding her on maize porridge. But it reached an extent where she lost appetite for porridge and we could not afford alternative foods which resulted in malnutrition," Fatyina adds.

Where more than two children from the same family suffer from malnutrition, the duo has had to reach out to the exact household and ascertain the reason. With such a strong stance on the anti-malnutrition campaign from Kissito healthcare international, incidences of malnourished children have greatly reduced in Wanale sub county. Currently, the weekly nutrition camp in Wanale health centre barely registers any cases of severe malnutrition, according to Namutosi.

The information on how to curtail malnutrition dispensed to mothers with malnourished children, however, is bound to create lasting effect long after the project winds up at the close of this year.

Agnes Nandutu, a 19-year-old single mother of four, whose daughter Mercy Khainza is almost concluding the nutrition therapy, seems to attest to this fact.

"Since I started bringing Kahainza hear for nutrition therapy, I have learnt how to blend nutritious foods using the readily available foods at home. When this program winds up, I will use that knowledge to nurture my children," Nandutu says.

At 12:45pm, just as Abeso and Namutosi are preparing to wind up the camp, another pregnant teenage mother, Justine Logoose, walks in with a malnourished baby boy. After rummaging through several files in an effort to locate the child's file, Namutosi discovers the teenage mother is a new person to the program. She examines the body of the child and writes to the mother a referral letter to Mbale hospital. Another grim testimony to justify the need for the continuous campaign against malnutrition in rural areas.


 Do you know any individual or organisation focusing efforts on improving nutrition in communities? Write to the Features Editor, P.O. Box 9815 Kampala or e-mail features@newvision.co.ug giving name, telephone contact of nominee and reasons for nomination. Type food, the nominee's name and SMS to 8338