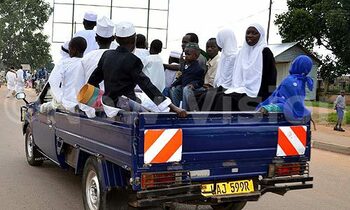 By Vision Reporter

Ugandan Muslims have thronged mosques to mark Eid-el-Fitr.
Police said it's on high alert in case any of the suspected terrorists plans to attack.

The Mufti of Uganda Sheik Shaban Mubajje is to preside over prayers at the Gaddafi Mosque in Old Kampala. The Supreme Mufti Sheik Zubair Kayongo is to lead prayers at Kibuli Mosque.

Police have warned people who plan to organize events on Eid against taking security at the venues for granted.

Kampala Metropolitan Police spokesperson, Ibin Ssenkumbi, said police was on high alert to ensure that all event organisers abide by security measures.

One of the measures, he said was the event organisers liaising with police to institute safety guidelines at the venues. He noted that all event organisers who don't raise the security at their venues a notch higher, to the expectations of police will not be allowed to proceed with their events.

He further urged mosques to tighten security as the large turn up of people for prayers could attract terrorists to attack. "Metal detectors should be put in place to supplement on the efforts of security personnel to avert any terror attacks," said Ssenkumbi.

Police disclosed to the press that they had obtained numerous warnings from several foreign security agencies of possible terror attacks during the Eid celebrations.

"We know terrorists have always used Muslims functions and gatherings to attack, so, we are not taking any chances on security. We urge all Ugandans to be vigilant of their security," reiterated Ssenkumbi.

Ssenkumbi called on Ugandans to report to police cases of suspicious objects such as abandoned bags, containers, boots, and packages among many.

The police warning comes amid Al-Qaeda resurgence, including prison breaks in Libya and Iraq in which hundreds of inmates escaped, and turmoil in Egypt, Mali and the Middle East. Interpol on Saturday issued a security alert after hundreds of militants were freed in jailbreaks.

The worldwide police agency said it suspected Al-Qaeda was involved in the getaways across nine countries, notably Iraq, Libya and Pakistan, that allegedly led to the escape of hundreds of terrorists and other criminals in the past month.