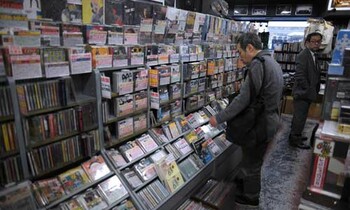 TOKYO - A new music streaming service in Japan is aiming to make a dent in the world's second-largest music market, but it could face a tough challenge from the undisputed king of the sector -- the good old compact disc.

While digital music now eclipses CD sales in the United States, Japanese music lovers tend to be big on showing off their disc collections -- e-books have also struggled -- and the industry is heavily geared toward sales of physical media.

This week, mobile messaging giant Line said it was going where others including Sony and games giant DeNA had failed, with a streaming service that offers unlimited access to a collection of more than 1.5 million songs for 1,000 yen (US$8) a month.

The announcement comes weeks before tech giant Apple is expected to enter the Japanese market with its own streaming business -- part of a wider digital download strategy that will offer up a heavyweight rival to online services such as Spotify, Pandora and Jay Z's fledgling Tidal.


This picture taken on June 12, 2015 shows a woman listening to music with her smart phone in Tokyo. A new music streaming service in Japan is aiming to make a dent in the world's second-largest music market, but it could face a tough challenge from the undisputed king of the sector -- the good old compact disc. While digital music now eclipses CD sales in the United States, Japanese music lovers tend to be big on showing off their disc collections -- e-books have also struggled -- and the industry is heavily geared toward sales of physical media. AFP PHOTO / Yoshikazu TSUNO
Line Music said it would run a two-month free campaign before rolling out the fee-based business, which will also offer budget-conscious consumers 20 hours of listening time for 500 yen. It said it plans to boost its collection to 30 million songs by next year.

Last month, information technology firm CyberAgent and music giant Avex Group rolled out their AWA streaming service.

Experts on Japan's music business said the new offerings may supply a shot in the arm for a struggling industry, luring business from a young generation used to spending their yen on online games and messaging services while cruising YouTube and other websites for a free music fix.

"Young people are spending their time and money on mobile phones and games so their spending on music has declined," said Yuko Tanno from the Recording Industry Association of Japan.

"We're hoping that (streaming) is a growth market."

Promising attempt

Japan is the world's number two music market, estimated to be worth $2.6 billion in 2014, trailing only the $4.8 billion US market.

But about 78 percent of the Japanese market accounts for packaged sales, such as CDs, contrasting sharply with the US where about 70 percent of the music industry's sales now come form digital offerings.

"The challenge for Line will not only be dealing with competitors, but also overcoming the Japanese music market's longstanding aversion to the web, adding enough content into the service in a reasonable time and Japanese users' unique penchant for buying and renting CDs like in no other country in the world," said Serkan Toto, a Tokyo-based mobile industry consultant.

But he added that Line's established hold in mobile messaging will give it a leg up.

Line's successful messaging app, which is hugely popular in parts of Asia, lets users make free calls, send instant messages and post photos or short videos. It combines attributes from Facebook, Skype and WhatsApp.

Best known for letting users send each other cute cartoon "stickers", Line is particularly favoured by Japanese teenagers. It is reportedly planning an initial public offering later this year.

"It could well be that Line, with its massive reach in Japan, turns out to be an accepted distribution channel for music as well," Toto said.

Still, previous failures are a red flag.

In March, Sony cancelled its flat-fee, cloud-based "Music Unlimited" service in Japan less than three years after its launch, while last year Japanese mobile gaming firm DeNA cancelled its digital music service in the country after just a year in operation.

The barriers to entry are myriad with many production companies focused on established retail channels for CDs while issues over licensing have also hampered growth in the streaming business.

Japanese consumers tend to favour physical collectibles, and some acts sell multiple covers of the same album to encourage die-hard fans to buy them all.

In some cases, tickets to live shows come with CDs purchased at stores, or fans who bought discs get priority seating at concerts.

Japan's most successful all-girls pop act AKB48 links CD purchases to ballots that fans cast in an annual election to decide which group members get prominence in their rotating line-up -- pushing fans to buy more discs to help their favourite stars rise in the ranks.

An early experiment to offer music services on old style-flip phones fizzled as Japanese consumers moved to smartphones.

But Japanese digital music sales rose five percent in 2014, the first increase in five years.

"Flat-fee, subscription services are driving the increase we saw last year," said Tanno from the recording industry body.

"It is true that CDs take up significant market share and that won't disappear. But we think digital distribution will also expand as more people start using smartphones."

AFP