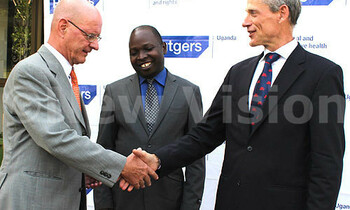 By Violet Nabatanzi

KAMPALA - About 1.2 million Euros (sh4.3 billion) has been allocated to sexual reproductive health and sexual education.

The money is allocated annually by Rutgers, a The Netherlands-based organization. It is then channeled to different organizations partnering with Rutgers.

Speaking during the opening of Rutgers' new office in Lubowa, the Netherlands Ambassador to Uganda Alphons Hennekens said sexual and reproductive health and rights (SRHR) helps save lives of people because it has a major impact on the future of Ugandans.

He assured the country that his embassy will become more involved in the sexual and reproductive health rights (SRHR) agenda in Uganda.

"Later this year, an SRHR policy officer will be stationed at the embassy to actively follow the SRHR agenda and join the various platforms for policy dialogue and consultations," he noted.

The envoy added that investing in sexual and reproductive health will allow girls and women to invest in their children's future, pursing their ambitions and unleashing this enormous potential of the female work force for the national economy.

Rutgers is working in partnership with the Ugandan government, Reproductive Health Uganda, Reach a Hand Uganda (RAHU), Population Secretariat, Straight Talk Foundation and Global Network of People Living with HIV/AIDS, among others.
 

Rutgers country director Anselm Wandega (right)  chats with RAHU team leader and founder Humphrey Nabimanya. (Credit: Tony Rujuta)

On his part, Uganda's state health minister for general duties Dr. Chris Baryomunsi assured that government is committed to addressing the challenges of SHRH in the country.

"We still have a lot of work in addressing issues of reproductive health; government will continue to work with the civil society organizations to achieve this.

"People still believe in having many children and that is why fertility rate is driving the population growth," said the minister.
 

From left, Lambert Grijns, State minister Chris Baryomunsi and Rutgers executive director Dianda Veldman. (Credit: Tony Rujuta)

Dianda Veldman, Rutgers' executive director said the office in Uganda will enable them learn and understand better the context and needs for sexual and reproductive health and rights in the region.

"This will help us to adapt and improve our programme. Being in Uganda means we can manage and provide technical support to our partners in the region," she said.

The demographic pyramid of Uganda shows that the population is extremely young.

The rate of population growth of 2.9% is not slowing down and the fertility rate of 6.2% is one of the highest in the world.

Rutgers country director Anslem Wandega noted that the new office will promote positive involvement of men and boys by changing their view on masculinity.

"We will make young people understand the consequences of having safer sex, free from violence."