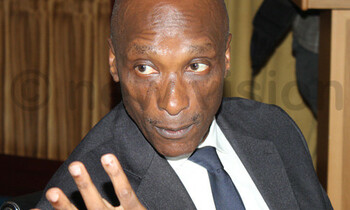 By Simon Masaba
INSPECTOR General of Police, Gen. Kale Kaihura has sent Special Investigations Division (SID) detectives to Yumbe District for a refresher course.
This comes after five high ranking security operatives from two neighbouring countries escaped from a police detention facility at the SID headquarters in Kireka a fortnight ago.
The suspects cut a hole through the plywood ceiling of their detention cell and cut through the iron sheet roof using a pair of scissors to escape.
"Sending the detectives for the course is a result of unprofessional conduct that has been displayed by SID detectives" Police spokesperson Fred Enanga told New Vision.
The development comes barely hours after the re-arrest of one of the escapees at Mutukula on the Uganda-Tanzania border. The hunt for the others continues.
Suspects linked to M23
Enanga on Monday told journalists that the suspects were linked to the M23 rebel group which is accused for atrocities in the eastern Democratic Republic of Congo (DRC) since April 2012.
"Police has been on the look-out for the past few days since their escape and we have good clues leading to their hideout. Soon we shall get them," Enanga said.
The suspects were arrested in Kampala in June 2014 over terrorism cases allegedly committed in their home countries (names withheld).