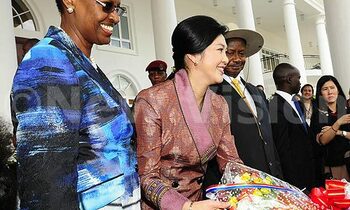 By Anne Mugisa and Steven Candia        
                                                                                                                                  
Thailand has announced duty free and quota free entry of Ugandan goods into Thailand. It also signed agreements for cooperation in different fields which will also include building a private Thai hitech hospital here so that Ugandans stop seeking costly treatment abroad.

These were discussed and agreed on Thursday during the visit of the Prime Minister of Thailand, Yingluck Shinawatra. She arrived Thursday afternoon to a 21 gun salute at State House, Entebbe after which she inspected a guard of honour mounted in her honour by the UPDF. She was received at State House by President Yoweri  Museveni and his wife, Janet.

She later held a meeting with the President after which the two of them joined the bilateral talks also held at State House.  
The two leaders then witnessed their respective officials sign three memoranda of understanding for cooperation in the food security, trade and industry, technical cooperation as well as one with the Private sector foundation.

The Thai Deputy Prime Minister Plodprasop Suraswadi signed the memoranda on behalf of his government while Sate Minister for Foreign Affairs, Henry Okello Oryem signed for the Govenrment of Uganda. The memorandum signed for the private sector foundation was signed by Gerald Ssendawula.

Under the agreements, the two countries agreed to develop a framework for the provision and supply of agricultural products and commodities from either side and promote and facilitate trade and investment in agricultural products and commodities from either side.

President Museveni made it clear that he is only interested in real investors not poor fortune hunters from outside Uganda.  "I am not interested in poor people coming here because I have enough of  the poor people here…," he said after the agreements were signed.

As Shinawatra held talks with Museveni, a delegation of Thai business personnel held a business forum with local Ugandan investors at the Lake Victoria Hotel to explore avenues of cooperation.

At the forum, Uganda made a strong presentation on business and investment opportunities available in the oil sector mineral exploration and mining, trade and industry, tourism and the energy sector among others.

All this was put in the context of the huge market of the 5-member state East African Community and the 19-member country Common Market of Eastern and Southern Africa (COMESA) which present a population of 450million.

"So you can see this has such an enormous potential," Dr. William Kalema, the country manager for BDO, one of the presenters.

Shinawatra announced a donation of US$60,000 (sh156m) for the renovation of Itojo primary school in Ntungamo district which she said should aid the girl child education there. She also announced a donation of computers, mosquito nets, air conditioning, medicines and medical equipment to the government of Uganda.

The two leaders announced the establishment of the Thai- African Investment Cooperation forum. Its first summit is expected to be held before the end of this year.

Shinawatra also announced that her country will give 10 post graduate scholarships for science disciplines. The choice of the fields will be decided by Uganda in accordance with its needs. She also announced the twining of the Thai Capital Bangkok with Jinja town.

She requested Uganda to support Thailand's bid for the UN Security Council seat in 2016/17 and a seat on the UN Human rights Commission.

She also asked for animal species from Uganda and said she will leave behind experts to study the species that they think are suitable for Thailand.