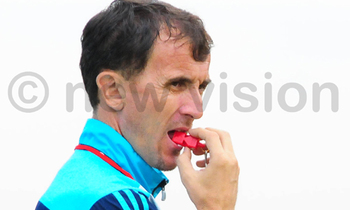 By Fred Kaweesi
World Cup qualifier
Senegal v Uganda (September 7, 10pm)
MICHO Sredojevic has presented FUFA a five-point master plan that —if followed —should eliminate Senegal and earn Uganda a place in the 2014 World Cup play-offs.
According to the Cranes tactician, the strategy that has been worked on in consultation with his technical team will also adequately prepare Uganda for the 2014 Africa Nations Championships in South Africa.
"I met my bosses and presented them my five-point programme through the next months to January. If we implement all, then we should hope for the best," the Serbian told New Vision Sport yesterday.
The five-point plan involves: 
One international friendly on August 14
Facilitation to compile various reports on the opponents and furnish each Cranes player with necessary dossiers on direct opponents
Organise a one-week training camp out of the country before the Senegal game
Identify Sunday of every week for national team retreats
Secure a training base in South Africa, two weeks before CHAN starts
Although the Serbian has equally been moved by his impressive start to his Cranes reign, he insists that he will only take pride after leading Uganda to considerable success in a major tournament.
"I want to prepare the CHAN team in the best possible way. If we can assemble the Cranes every Sunday for sessions and discussions with club coaches and camp in South Africa before the tournament, we will do well," Micho hinted.
"I have contact with a club in South Africa that is willing to offer us an opportunity to use its facilities for two weeks. If all goes to plan, that's where we will be based in the build-up to the tournament," he added without mentioning the club.
All eyes in Morocco But while Cranes' CHAN preparations continue to gather pace, Micho will spend the next couple of weeks strategizing for the strenuous assignment in Morocco.
On Tuesday, FIFA finally confirmed that Uganda's World Cup qualifier against Senegal on September 7 will be played at the Stade de Marrakech.
FIFA's decision follows a recommendation from the Confederation of African Football (CAF) last month to have the game switched to Morocco and not Guinea, where Senegal had played Angola earlier on.
Senegal were banned from hosting matches for a year following fan violence during their Africa Nations Cup qualifier against the Ivory Coast in 2012.
And if history is anything to go by, then Cranes will have reason to be delighted with the choice of Marrakech —a venue the team enjoyed an impressive run in the LG Cup in 2011.
Back then, the Cranes even shocked hosts Morocco with a 1-0 win before finishing second to eventual champions Cameroon.
Micho to help Okwi One of the hurdles that Micho needs to negotiate before the trip to Morocco is how to improve the fitness levels of Cranes striker Emmanuel Okwi and left-back Godfrey Walusimbi.
The two first team players have spent recent months in Kampala following misunderstandings with their respective clubs in Tunisia (Etoile du Sahel) and DR Congo (Don Bosco).
Okwi chose to remain until Etoile complete an unknown balance of his sign-on fee while Walusimbi opted for the same move after Don Bosco failed to fulfil some of his pre-contract agreements. 
"I am trying to find a club where to place Okwi so that he works on his fitness. I need to help him urgently," Micho stated.