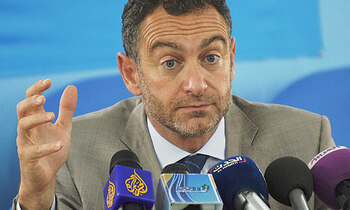 The UN Security Council has taken a swipe at South Sudan over the expulsion of a UN aid official, saying the decision showed Juba's disregard for the plight of its people.

UN aid coordinator and deputy envoy Toby Lanzer was declared persona non grata on May 29 for warning the country was headed toward collapse after 18 months of war.

The Security Council noted that Lanzer's expulsion followed a warning from the World Food Programme (WFP) that South Sudan was facing its worst food crisis since independence in 2011.

The expulsion "shows a disregard for the plight of the South Sudanese people and for the essential role the international community, in particular the United Nations, is playing to address the dire humanitarian crisis and deliver hope to the people," said a unanimous council statement.

The 15-member council again threatened to impose sanctions against those who threaten South Sudan's peace and stability.

The United States on Tuesday called the move an "affront to the international community" that "demonstrates a callous disregard for the suffering of the South Sudanese people."
 
true
The World Food Programme warned that South Sudan was facing its worst food crisis since independence in 2011. (AFP)

South Sudan poses one of the UN's worst humanitarian crises, with more than 2.5 million people facing severe food shortages.

The world's newest state was plunged into conflict in December 2013 when fighting erupted between forces loyal to President Salva Kiir and rebels allied with his former deputy, Riek Machar.

The Security Council threatened in March to impose sanctions on those who obstruct peace and adopted a resolution that sets up a committee to begin work on the measures, but no action has been taken.

Lanzer, a British national, is due to take up a new post as UN regional humanitarian coordinator for the Sahel at the end of June.

AFP



Also related to this story

S. Sudan: No power-sharing without political reform (Part I)

Prof. Mamdani speech on S. Sudan: Part II