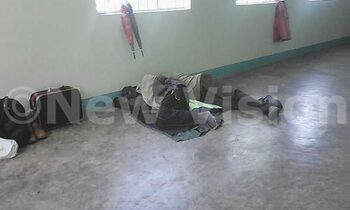 By Tony Achidria and Damalie Nabbosa

PILGRIMS from Kenya have started arriving at Rubaga Cathedral in Jinja. By this morning there was a group of six, three men and three women.
Two men were asleep on the floor of a large hall while the women sat in a shade outside the building, trying to catch their breath.
The group that was at Rubaga is part of a larger group of pilgrims estimated to be about 150, who were moving at a slower pace and are expected at the cathedral later this evening.
Twenty-five year old Dominic Ngetich was among the first to arrive. He is from Cheptitrrch parish in Eldoret. "It is my first time to cone to Uganda. So it has been a successful journey despite challenges" he said.
He together with the larger group from Kenya set off to embark on their journey two weeks ago.
Ngetich says some pilgrims especially the older ones were being cheated by money changers at the border. Only those who know the correct exchange rate survive the cunning Ugandan money changers.
The group from Kenya plans to rest at Rubaga tonight and set off to the next parish Saturday morning at 4:00am
They plan to say mass at Mbiko before proceeding with the trek.
At Rubaga Christians donated money to buy food for the pilgrims.