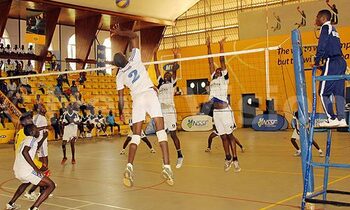 By Swalley Kenyi

NSSF National Volleyball League

Serie A, Men

KAVC-A 3 Nkumba 2

Sport-S 3 Old Kampala 0

KCCA 0 UCU 3

Tigers 0 Nemostar 3

Mulago 2 Ndejje 3

Women

Sport-S 3 KCCA 1

VVC 3 Ndejje 1

KAVC-A 3 KAVC-B 2

Mulago 1 Thunders 3

Nemostar 3 COBAP 0

Espoir 3 UCU 0 -w/o

Reigning champions KAVC A, Sport-S, Uganda Christian University (UCU), Nemostars and Ndejje men volleyball clubs had winning starts at the NSSF National Volleyball League over the weekend.

KAVC A and Ndejje University needed decisive sets against Nkumba and Mulago 3-2 respectively while Sport-S, UCU and Nemostars were straight sets winners over Old Kampala, KCCA and Tigers volleyball clubs in that order.

It was KAVC's third decisive set victory since December 2014 when they beat Sport-S VC in the league final.

Last March KAVC also needed decisive set wins in the Jinja Open Volleyball Championships to beat KCCA VC in the quarterfinals and Nemostars VC in the semi-finals. KAVC interim tactician Daniel Okwee said that have mastered the decisive sets.

The League resumes on June 27 to pave way for the Genocide Cup in Rwanda, Uganda's Aporu Cup and Nkumba Open volleyball championships.
RELATED STORIES:

National Volleyball league starts