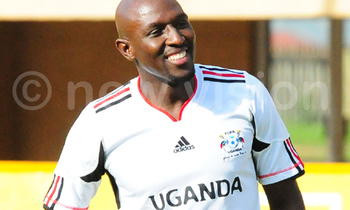 By Fred Kaweesi
EARLY last week, Ibrahim Sekagya arrived in the United States with hope of authoring instant success in Major League Soccer (MLS) with Red Bulls Salzburg's sister club in New York.
Surprisingly, his planned transfer to New York Red Bulls was not as straightforward as first thought.
The Ugandan defender was briefed that he needed to first undergo a trial period before the club executives would even start discussing his salary cap.
"It's someone that's been on the radar, someone that from preseason on we were looking to get in to have a look at to see what his options are as well as what our options are, and we're able to do that right now. Obviously if anyone comes over and trains with us and impresses us, (and) we feel they can be good, we try to make things happen," Red Bulls coach Mike Petke said after the defender's first practice session at the Red Bulls' new training facility in Hanover, NJ.
In summary, Petke meant two things; that the club were not confident of the player's qualities and that any relationship between the two Red Bulls is more in theory than anything.
If that isn't, then how would you explain the club's lingering doubts in a former captain of a sister club.
In fact, I find it embarrassing that despite his three Austria Bundesliga titles with Salzburg that included leading the club to a cup double last season,
New York Red Bulls still felt it relevant to treat the Ugandan to a number of trial matches in the reserve league.
Well, Sekagya has already played in one —the 2-1 defeat to Wilmington last weekend-and that should be enough humiliation. 
Someone probably needs to remind Petke that exceptional was the word commonly associated with Sekagya throughout his Cranes' career.
And although Ugandan football has produced many talented players down the years, he has and is still the country's best football ambassador.
If Sekagya had succeeded in propelling the national team to the 2012 Nations Cup finals in Gabon/Equatorial Guinea, he would have been ranked as arguably Uganda's best player of all-time — an honour reserved for legends Jimmy Kirunda and Philip Omondi.
He retired as the best of his generation, a fair achievement for a career that was clustered with imperious, towering performances that will be framed and hung in the memories of his fans.
If Sekagya was still a vital member of Salzburg's domestic and European adventures last season, then he can't be too average in the space of months not to guarantee an obvious contract in a league of literally 'pensioners' with Red Bulls.
In his career playing in Africa, Europe and South America, Sekagya has excelled in the face of established forwards.
Which means as much as the MLS has gone on to attract some of the best players around the world, the fact is the standards are not way above Sekagya's reach.
The league is lucrative but not so competitive to deny one of Uganda's best a chance of earning an outright contract.
A move to New York will certainly enrich Sekagya's already impressive CV and gradually allow him prepare for his UEFA Pro Licence coaching badges later this year.
Then there is the golden opportunity of strengthening ties with the likes of Thierry Henry at the club —players he will definitely need to initiate and promote football projects in Uganda in the near future.