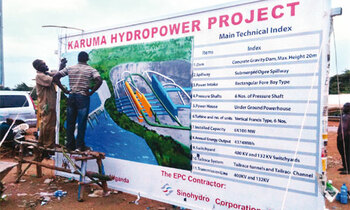 By Taddeo Bwambale

A Chinese firm contracted to build Karuma Hydropower Dam has started surveying the site ahead of construction works scheduled to start this year.

The company has created an access road to the site and erected a billboard bearing artistic impressions of the proposed 600 megawatt (MW) hydropower dam to be built on River Nile.

The Government early this week granted permission to Sinohydro Corporation Limited, to survey the project site to prepare for construction.

Kabagambe Kaliisa, the permanent secretary in the Ministry of Energy, in a letter dated June 3, granted the company temporary access to the area to set up facilities and carry out site investigations.

"This is to grant your company temporary access to the project site to enable you carry out investigations and surveys to facilitate securing funds for the project," Kaliisa wrote.

The company yesterday said granting it the permit would hasten the process of receiving funds from the Chinese government, which is funding the project under a bilateral arrangement.

'This action will facilitate a speedy confirmation to the contractor from the government of the People's Republic of China and the EXIM bank of China to avail funds to complete this project under the bilateral arrangement between the two countries,' the company said in a statement.

Kaliisa tasked the company to notify Uganda as soon as it receives confirmation on funding for the project.

The project is expected to generate over 6,000 jobs for Ugandans working as welders, joiners, carpenters, porters, project accountants, electrical and mechanical engineers, cooks and cleaners.

Completion of the project is expected to take seven years, at an estimated cost of $2b (about 5 trillion shillings).