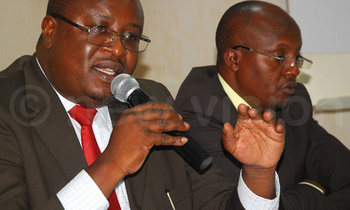 By Cecilia Okoth
CIVIL Society Organizations (CSOs) have expressed concern over the proposed amendment to Article 26 of the Constitution on land acquisition by Government saying it would disrupt citizens' right to own property.
In a joint statement read by Henry Mugisha the Executive Director Water Governance Institute on behalf of the CSOs, the proposed change is not just a procedural change but a veiled assault on the right to property.
"The proposed changes empower government to take possession of property before compensation occurs pending the determination by the court of the compensation payable in the event that the parties are unable to agree on the fair and adequate compensation payable," Mugisha said.
He added that without the assurance of prompt payment of fair and adequate compensation prior to the taking of possession or acquisition of property, citizens are effectively deprived of their right to property for an unspecified and indeterminate amount of time.
Mugisha was speaking at a CSO breakfast meeting on land acquisition held at held at Hotel Africana on Thursday.
The CSOs against the proposed amendment include, Action Aid Uganda, Uganda Land Alliance, Water Governance Institute, Transparency International Uganda and Africa Centre for Energy Governance.
Others include Advocates for Natural Resources Governance and Development, Chapter Four Uganda, Civic Response on Environment and Development, Global Rights Alert and Global Witness.
As it stands now, article 26 asserts citizens' rights to own property and also protects citizens from illegitimate compulsory deprivation of property. Compulsory deprivation of property is only lawful when the acquisition is necessary for public use, national security, public safety, public order, public morality or public health.
According to the current constitution, as such an acquisition can only occur after payment or fair adequate compensation to the relevant parties so as to ensure that citizens' rights to property are not violated at any point in the progress.
Edmond Owor the Executive Director Uganda Land Alliance said Government should offer land owners to be shareholders of the investments carried out in their land.   
"If investors came and had an agreement with the land owners, make them part of that investment. That way, you will be assuring these communities that all is not lost," Owor said, adding that mere compensation is not enough for them.
Florence Ibi Ekwau the woman Member of Parliament for Kaberamaido district who attended the meeting said Parliament had not received a copy of the proposed amendment. She however said that the proposed amendment requires public scrutiny and that the timing is not right as it will not receive the attention it deserves.
Currently the Constitutional Amendment Bill is the most talked about bill today, following next year's presidential general elections. However the bill was tabled yesterday for the first reading.